Super Fun, Diggers Delight Estate Sale in Hacienda Heights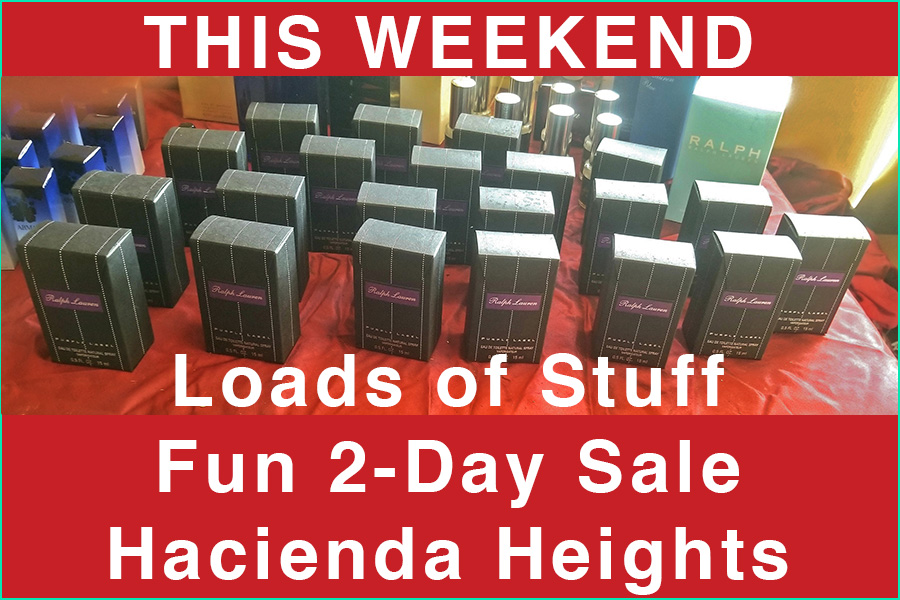 Date: Saturday and Sunday, June 20th and 21st
Address:
15571 Pintura Dr.
Hacienda Heights, CA 91745
Get ready to roll as we have a whole bunch of great sales coming your way. This weeks sale is the second of quite a few that have been waiting in the wings for the past three months. We are very exciting to not only be catching up, but to be able to once again bring these super estate sales to you.
We are changing the pace and moving on to one of our "Digger's Sales" and this one is in Hacienda Heights.
No better way to describe this sale than just plain FUN and FUNKY! There is a really fine variety of decorative accents, lamps, mirrors, and loads of fun, if a bit goofy stuff.
We also have several sets of Fitz and Floyd dishes, an array of decorative arts, wall art and paintings. There is fun fabric, clothing, some decorative rabbits and a nice selection of kitchenware and pots. Of course furniture, including a vintage mid-century hi-fi cabinet, very nice patio set and everything in between… really a paradise for all you diggers out there!
One unique find at this sale is the huge selection and variety of designer perfumes and there is a lot of it. The owner was a rep for the perfumes, and most all of them are in brand new unopened bottles/boxes. She also had quite a stockpile of other designer beauty products. So here is you chance to score on some quality beauty products and come out smelling like a rose!
To give you an idea, here is a partial list: Ralph Lauren (Notorious, Woman, Purple Label, Ralph, Ralph Cool, Polo Blue, Lauren Style, Ralph Hot, Polo Double Black, Romance, etc. Georgio Armani (Code, Sensi, Mania, Prive, Emporio, Gio) Marc Jacob's, Jessica Nourish, Estee Lauder Renutriv, Oxygene Lanvin, Midnight Romance, Victor Rolf Antidote in various sizes, Victor Rolf Flowerbomb, Lancome Hypnose, Medallion d'or, Chinoiserie Renaisance, Fleur et Nuages, plus many other designer beauty products.
Most importantly, we are pricing well below EBAY prices for all these designer perfumes and other beauty products. (Less than half).

Sale starts at 9 am Saturday morning. There will be masks required inside the home, and we will be limiting the amount of customers in the house at any one time. I will be putting out a first entry list on Friday at Noon. Feel free to call or text me with any questions regarding the sale. I am happy to help!