From Fine Art to Military Collectibles, A GREAT SALE!!!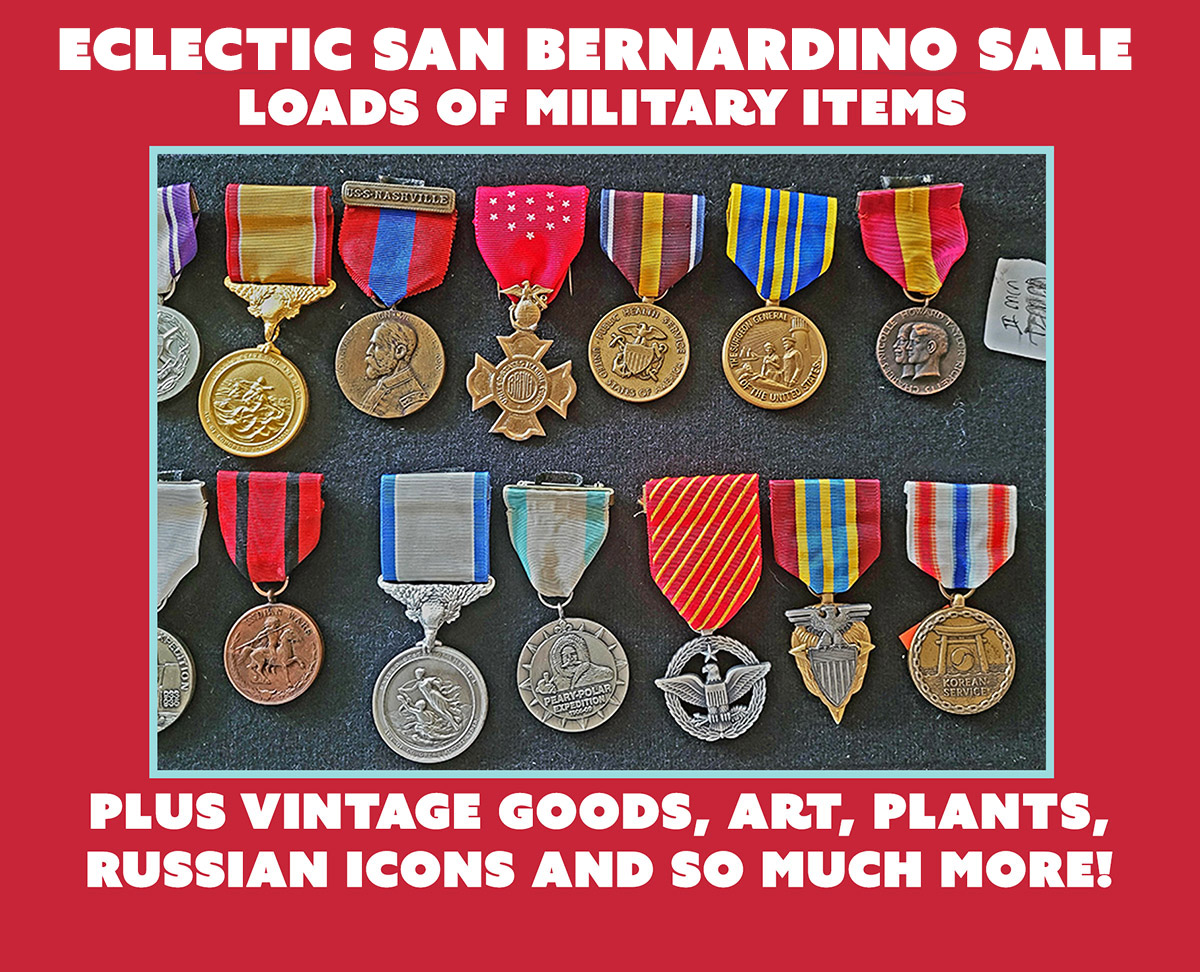 Dates: Saturday September 17th (9am till 3pm) and Sunday 18th (9am till 2pm)

Well, here we are with another great sale and it is time to go eclectic and fun! This lovely home in located in San Bernardino and there is plenty of interesting stuff to be found here.
Let's kick off the list with a huge, amazing collection of military medals and insignia–highly collectible and sought after. These items date from WW2 up to the Vietnam war. In addition, there is an excellent selection of military uniforms, binoculars, caps and sundry other military equipment.
And, for something completely different, there is a beautiful collection of Russian icons, other icons and crosses. You will find a fine choice of wall art and lovely original paintings as well as framed Art Nouveau tiles.
Then there is a huge selection of Pikard goldware china, and other fine china as well. The sale boosts an amazing quantity of vintage American cut glass! And plenty more as well: vintage paper, old photos, books and quite a bit more vintage goods.
As a bonus, we have a great selection of plants, pretty plumeria and rose bushes along with nice yard art and pots.
We have a ton of images on our SAN BERNARDINO ESTATE SALE LISTING that you should click on and browse (and we have some great images below). Please take a look and then make your plans to attend a really fun estate sale this weekend!
See you there, the sale starts on Saturday morning at 9am
QUESTIONS? You can always reach me by cell (951) 316-0429 or email rsvandermolen@aol.com
Lovely Custom Upland–Furniture, Fine Art and More!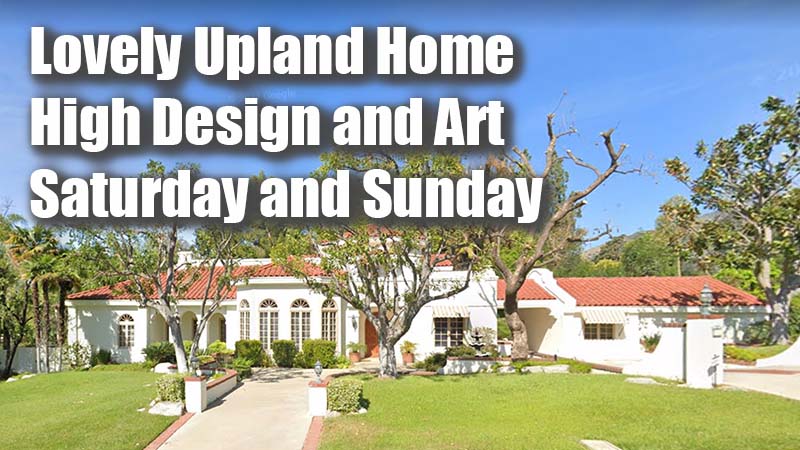 Dates: Saturday March 19th (9am till 3pm) and Sunday March 20th (9am till 1pm)
For more images, please visit our listing on ESTATESALES.NET: Link to UPLAND CA Estate Sale

Here we are with another great estate sale, following up our fantastic Pasadena mansion estate with this lovely Upland home. This custom home has a very wonderful designer spirit to it, as you will see from the lovely images.
There is a great selection of items here from designer clothes to beautiful furniture to fine modern art.
Check out some of the great finds to be had here:
A super selection of designer clothes, purses, belts and even a collection of perfumes
A huge selection of current novels and books
A number of very nice terra cotta planters and pots, along with many potted plants
Beautiful custom furnishings
A HUGE garage full of digging discoveries
Kitchen and household goods (some lovely vintage Pyrex)
Fine art, decorative items and interesting pieces.
I could make a very long list of what we have but a picture is worth a 1000 words, so check out the many images we have on our UPLAND ESTATE SALE listing.
Please feel free to text me with any question you may have regarding this wonderful estate…I am happy to help.
Want to have first access, join my first access group by adding your name to our "text me" list is for first line up entry only. Come on by and have some fun…and beat inflation with some great bargains!
If you want early, first access then please TEXT me
I will add you to our first access list
(951) 316-0429
QUESTIONS? You can always reach me by cell (951) 316-0429 or email rsvandermolen@aol.com