WOW AND DOUBLE WOW! HUGE VAN NUYS LIQUIDATION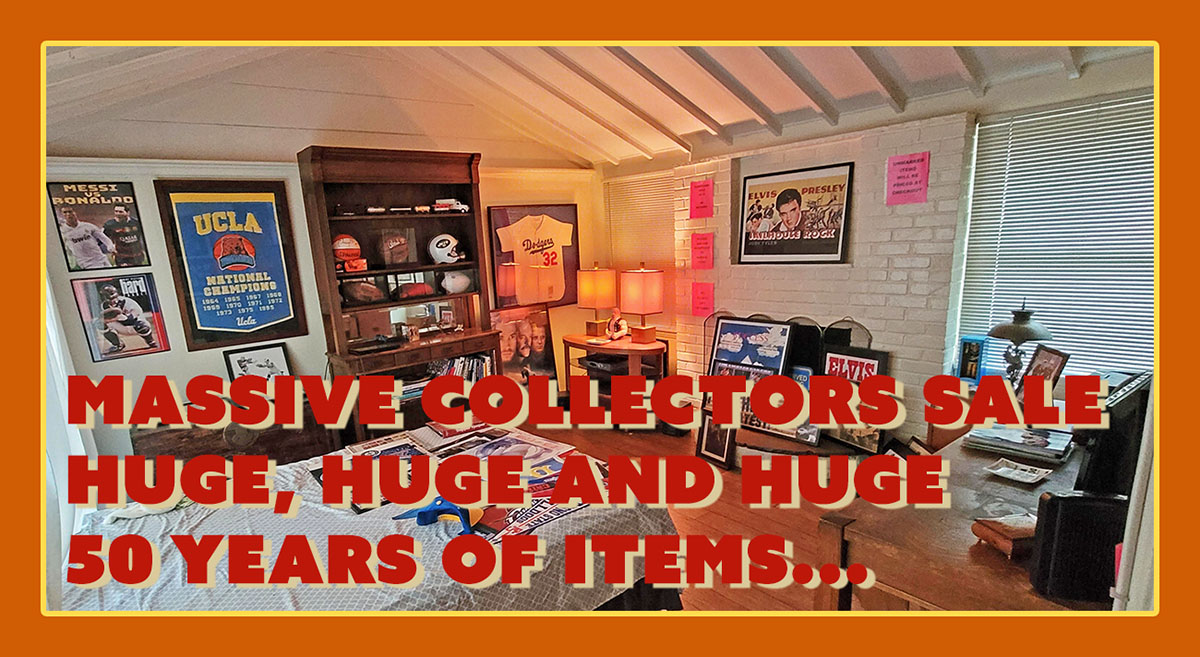 Dates: Saturday April 22nd (9am till 3pm) and Sunday 23rd (9am till 2pm)
Address: 5655 Costello Ave, Van Nuys, CA 91401

Well, whoever said "less is more" has definitely not been to one of our MASSIVE, COLLECTORS DIGGER SALES! And this sale is certainly a fun, filled sale that is packed with the fruits of many, many years of collecting across a broad range of interests.
This cozy home, located in the Valley, is just crammed and jammed after 50 years of collecting! It features sports memorabilia of all kinds, quite a range of Japanese and Chinese collectibles and decorative pieces, great wall art and movie posters as well as a massive assortment of paper memorabilia (such as historic newspaper pages and vintage magazines), plus many, many books on all subjects..
For vinyl fans, there are over 2,000 record albums!
In the clothing department, you will find some nice designer women's clothes and shoes as well as many sports related jackets and jerseys.
Here is a partial list of what we have to offer:
A totally restored large Coke Machine
1972 Seeburg Firestar Jukebox (the exterior is in beautiful condition) and a vintage Victrola
A Lincoln head cent collection (missing only the 1909's VDB) and a buffalo nickel collection (missing 2 dates)
Vintage wrestling memorabilia, sports banners, sports magazines and papers
Several Asian room panel dividers and a huge assortment of Japanese, Chinese and Asian pottery
1963 San Diego Chargers signed football (28 signatures, and this was the year they were AFL Champions!)
Kareem Abdul Jabbar signed basketball
Tons of toys and stuffed toys, games and Batman posters
Wall cabinets, a petite roll-top desk, a Maitland Smith designer tessellated coffee table, Globe Wernicke 3-stack Lawyers bookcase and a lovely American Oak bow front curio cabinet
Mother of Pearl wall plaques
A large wooden hand carved carousel horse
A huge 19th century lithograph/steel engraving of the First Reading of the Emancipation Proclamation
A large and original 19th Century oil painting of a circus scene
Cloisonné decorative items, such as teapots and a Clock, plus a 19th century brass French clock
Very nice costume jewelry and 2 brand new Movado watches
2 leaded glass windows, along with Christmas decor and an antique fairy tricycle
A set of 4 almost new Ironman tires (275/65/18 in)
Of course, this is still just a partial list! Check out the over 300 pictures on our EstateSales.Net listing, VAN NUYS ESTATE SALE LISTING, and you will see how fun and how filled this sale is going to be! Truly a diggers paradise and treasure hunt.
As you should know, we always price fairly, because we want to sell it all! So come on by and have some fun digging through this crazy sale!
I will be making a line up/ first entry list for those wanting to get in first, so text me with your full name if you would be like to be put on this list. First come, first served. And then show up 1/2 hour before opening at 9 am Saturday morning, in order to get lined up according to the list.
There is a LOT here, so be sure to bring your own boxes and bags as you will need them, see you there.!
See you there, the sale starts on Saturday morning at 9am
QUESTIONS? You can always reach me by cell (951) 316-0429 or email rsvandermolen@aol.com
Lovely Custom Upland–Furniture, Fine Art and More!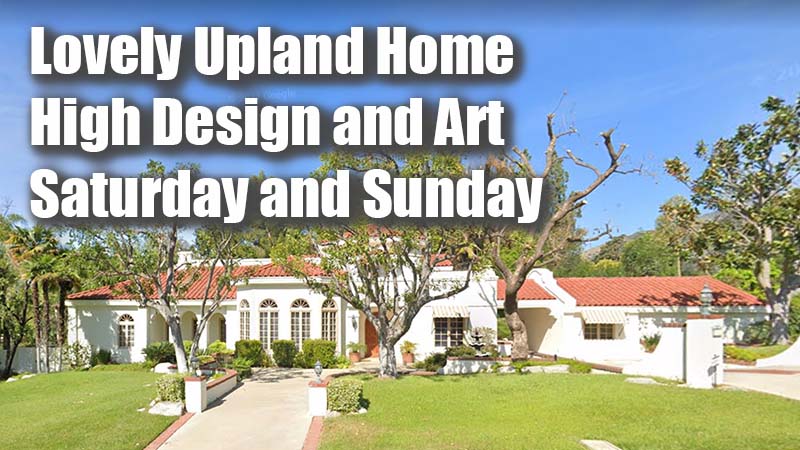 Dates: Saturday March 19th (9am till 3pm) and Sunday March 20th (9am till 1pm)
For more images, please visit our listing on ESTATESALES.NET: Link to UPLAND CA Estate Sale

Here we are with another great estate sale, following up our fantastic Pasadena mansion estate with this lovely Upland home. This custom home has a very wonderful designer spirit to it, as you will see from the lovely images.
There is a great selection of items here from designer clothes to beautiful furniture to fine modern art.
Check out some of the great finds to be had here:
A super selection of designer clothes, purses, belts and even a collection of perfumes
A huge selection of current novels and books
A number of very nice terra cotta planters and pots, along with many potted plants
Beautiful custom furnishings
A HUGE garage full of digging discoveries
Kitchen and household goods (some lovely vintage Pyrex)
Fine art, decorative items and interesting pieces.
I could make a very long list of what we have but a picture is worth a 1000 words, so check out the many images we have on our UPLAND ESTATE SALE listing.
Please feel free to text me with any question you may have regarding this wonderful estate…I am happy to help.
Want to have first access, join my first access group by adding your name to our "text me" list is for first line up entry only. Come on by and have some fun…and beat inflation with some great bargains!
If you want early, first access then please TEXT me
I will add you to our first access list
(951) 316-0429
QUESTIONS? You can always reach me by cell (951) 316-0429 or email rsvandermolen@aol.com