Classic and Elegant La Canada Estate – TWO-DAY SALE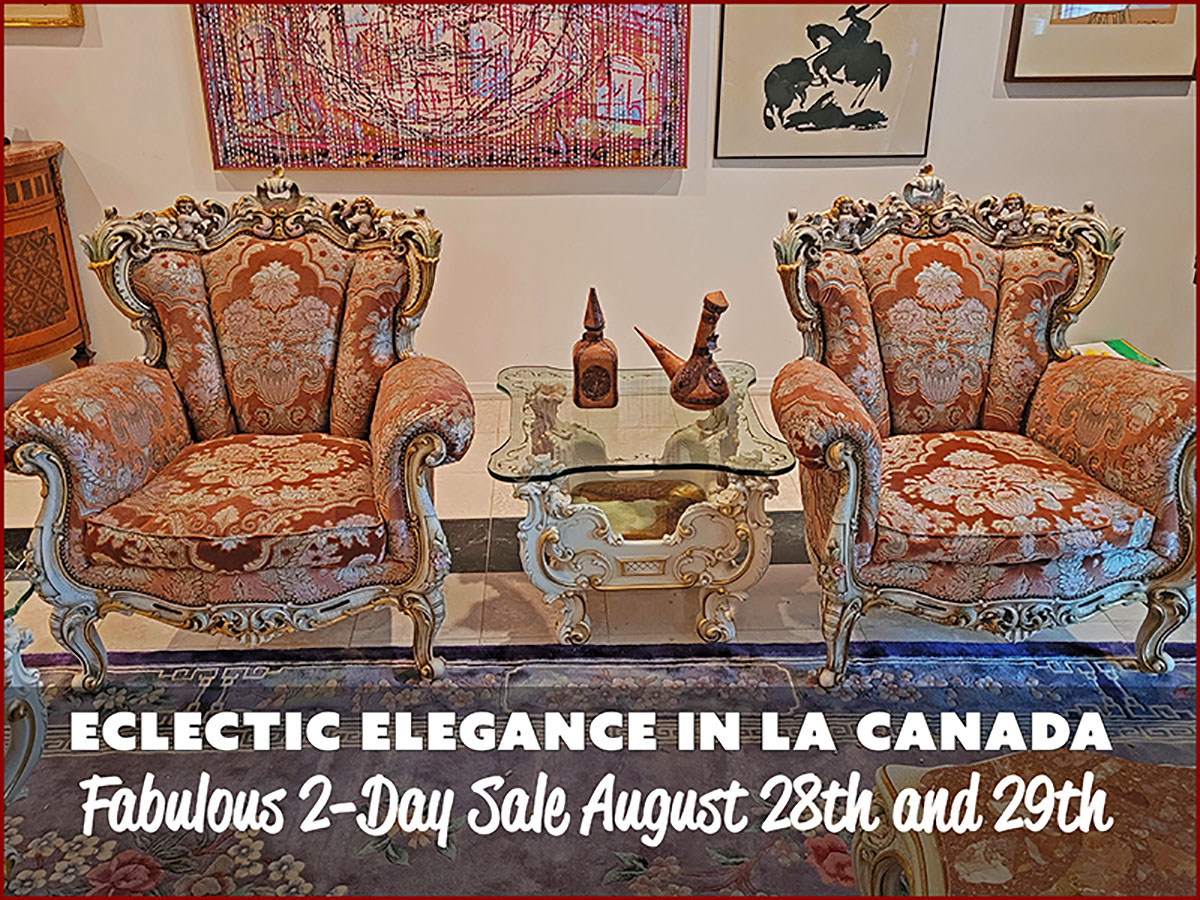 Dates: Saturday August 28th (9am till 3pm) and Sunday August 29th (9am to 2pm)

After last weekend's successful estate clear-out, we have another great sale for you. And what a delightful and elegant sale we have in store for you. Located in the upscale community of La Canada, this sale is packed with everything from uber-elegance to decorative to the very practical.
This home is a very eclectic mix of luxury furniture, artwork, tools galore, massive garage discoveries, a great selection of home decor, video gaming consoles and games, cookware, fine China and so forth. Let's just say that this is going to be a crazy and broad mix of fun finds and bargains, with something for everyone! And that is just the house, there is a huge garage full of discoveries!
There is A LOT here but a very partial list includes:
Several fine original and listed paintings
Vintage 1970s Marantz stereo set (with Garrard turntable and Marantz 8 track player)
Wall art, including Picasso and Chagall vintage prints
Snap On tools and tool case
Game consoles and games
Two large Capodimonte chandeliers
A Roomba 850
Leather sofas
Royal Albert China
Two luxury dining room suites
Lenox "Westchester" fine China set
Chinese wool rugs
Hanging tapestries
Huge collections of perfume bottles, Swarovski crystal, miniature clocks
Kawai Baby Grand piano
8ft pool table
Large patio table and 8 chairs
Large assortment of kitchen small appliances
My oh my, there is a great deal more and we have to clear it all. So please, check out my 200 photos for a better idea of what this great sale has.
We always price fairly and you will find us friendly and helpful. Feel free to text me with any questions regarding the sale or items…I am happy to help. We will be putting out a line up sheet on Friday by noon for first entry. Come on by this weekend for some fun, and great bargains! Doors open on Saturday morning at 9 am. See you then!
QUESTIONS? You can always reach me by cell (951) 316-0429 or email rsvandermolen@aol.com