Another Great Sale in Store–Pasadena!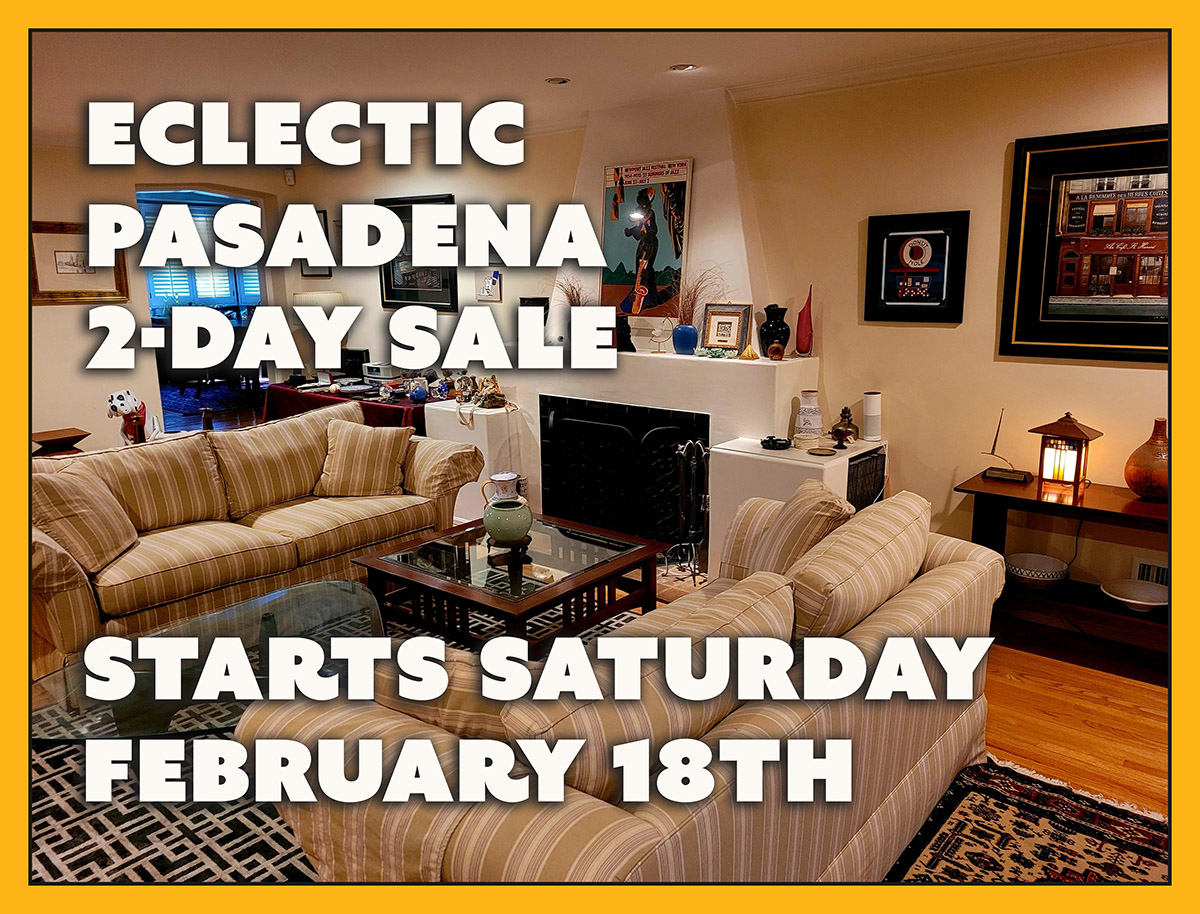 Dates: Saturday February 18th (9am till 3pm) and Sunday 19th (9am till 2pm)

Time for another fun and eclectic sale. We return to the fabulous Oak Knoll area of Pasadena, just about one mile from the site of our last sale in San Marino. This time we are proud to present the home and estate of a long-time network TV executive. As you can imagine, this home is full of a lifetime of collecting cool, unique and wonderful things.
As fitting for the life of an entertainment industry executive there are many items of interest that you would not find in your average home. The owner's interests spread over sports, Broadway, TV and much more. These wide and varied interests are represented throughout and there are sure to be finds and treasures for all!
Just a few of the highlights include…
A large selection of Ethan Allen Arts and Crafts contemporary furniture, a set of Smith & Hawkins teakwood patio furniture, handmade Persian wool rugs, movie posters, great Disney posters, concert posters, vintage posters, art pottery, art glass.
A large array of TV memorabilia (such as jackets, t-shirts, bags, etc). a huge mens wardrobe–including Burberry! A fine selection of sports memorabilia (Sandy Koufax memorabilia), art photographs, original art, a large very limited edition giclee by Manny Hernandez.
There is more… a Bose speaker system, stereo equipment, great pair of matching Ethan Allen sofas, vast assortment of games, vintage Victrola, a Herman Miller/ Noguchi collaboration table, a 1940s Rock-Ola jukebox, a nice selection of books (much of it entertainment and sports themed), vintage Berkshire bentwood rocker, mid-century record cabinet, beautiful dining table and chairs by Councill, vintage cruise ship menus, a baseball china set (made exclusively for Fishs Eddy in New York), excellent kitchenware, over 200 vintage LPs (much of it rare Broadway), potted plants… and so much more!
As always, our pricing is always fair, because we want to sell it all! So, mark this sale down on your calendar…doors open at 9 am Saturday morning. No pre-sales… but feel free to text me with any questions about the sale. I am happy to help. A line up sheet will be provided on Friday afternoon for the customers. See you Saturday!
I will have a first entry list put out by Friday afternoon.Feel free to text me with any questions you may have… I am happy to help. Ron
Please feel free to text me with and questions. I am happy to help. Come by and have some fun at this cool and funky estate sale!We have a ton of images on our PASADENA ESTATE SALE LISTING that you should click on and browse (and we have some great images below). We encourage you to take a look there AND THEN MAKE PLANS TO COME THIS WEEKEND!
See you there, the sale starts on Saturday morning at 9am
QUESTIONS? You can always reach me by cell (951) 316-0429 or email rsvandermolen@aol.com