Artist's Estate Liquidation in Glendale, California
Date: Saturday, March 14th (9am to 3pm)
Sunday, March 15th (9am to 2pm)
Address: 3314 Sparr Blvd
Glendale, CA 91208
---
---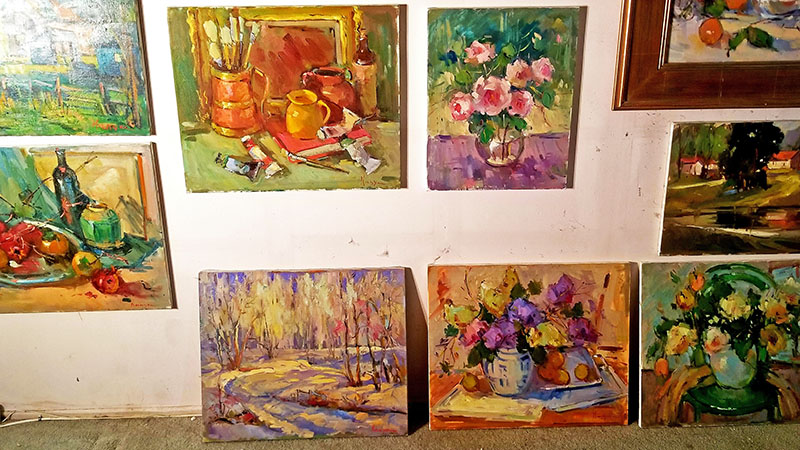 Amazing Collection of Original Impressionist Art by Listed Artist
We are back and happy to present a very unique estate sale in Glendale that was the home of a beautiful artist, Kanya Bugreyev.
The highlight of this sale is the large selection of her contemporary fine art paintings. She is a noted and listed artist. Kanya Bugreyev exhibited and painted for many years in the impressionist (Russian influenced) style. She was represented by several galleries, and also won numerous awards for her art! Her color palette is very bright, vibrant and alive. Perhaps best known for her floral work and still lives, she was also quite masterful at capturing outdoors scenes and landscapes. Her works are heavily influenced by the noted artist Sergei Bongart as well as several other noted artists and teachers.
Kanya Bugreyev was a member of the California Art Club, Oil Painters of America, American Academy of Women's Artists, Sergei Bongart Society and San Gabriel Art Association–all juried and prominent art Associations.
Here are two links to more about Kanya Bugreyev and her work:
https://stephaniesgallery.com/portfolio/kanya-bugrevey/
http://www.santamariasun.com/art/410/the-world-outside/
The estate is filled with over 160 of Bugreyev oil paintings of all sizes–both framed and unframed. A nice mixture of still life works and landscapes. I will be attempting to sell them all, so the prices will be very fair and a terrific chance to pick up some wonderful original art by a noted California painter. Feel free to contact me with any questions or specific interest in a painting, I am happy to help.
And the sale does not stop at just paintings, there is a houseful of other great finds as well!
The estate liquidation is full of nice furniture, china, Beyers figures, Nutcrackers, kitchenware, Asian cabinets, bookcases, glassware, lamps, yard art and pots. Plus, the rest of the artist studio supplies, including artist boxes, blank canvases, oil paints, frames, etc.
As always in our sales, there are lots of fun things for everyone. Here is your chance to get rid of that 80's Nagel poster or grandma's 70's factory art you've been meaning to replace. It is time to acquire some real fine art for those bare walls of yours–and at truly bargain pricing.
I will be putting out a list to sign up for first entry the day before the sale, around noon. See you there!