FABULOUS AND FASCINATING SIERRA MADRE SALE!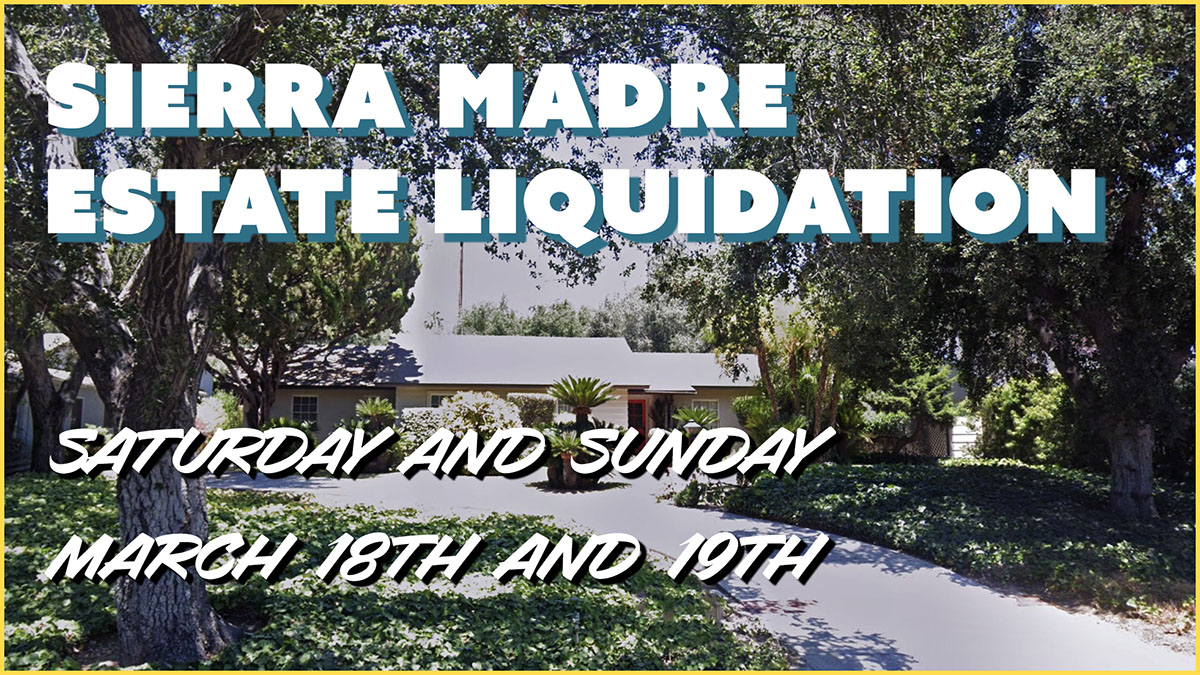 Dates: Saturday March 18th (9am till 3pm) and Sunday 19th (9am till 2pm)

Get ready for another fun, eclectic and oh, so very interesting estate liquidation sale! This one is definitely out of the ordinary and is not to be missed.
Let's start off with the nice selection of 19th century Chinese/ Asian artifacts, art, and objects. These are truly lovely, with fine prints, carvings, ceramic pieces and more. Including a Yoshiiku Utagawa 3 panel woodblock, this is known as "The Five Nations, Gankiro Tea House" and other lovely woodblock prints as well.
And for any audiophiles out there, here is an once in a lifetime find: an AMAZING PAIR of custom speaker enclosures (these are modeled after the legendary JBL Hartsfield system) featuring VERY EARLY JBL 375 speakers (16 ohms) and also housing what appears to be a pair of JBL 150 4-c subwoofers–according to the owners daughter. I opened up one cabinet but it was of such heavy duty construction and craftsmanship, I left the cabinet intact. I did hook them up to a Pioneer receiver and they worked beautifully… no issues that I could tell. These speakers are being PRESOLD and we are currently accepting bids on them. In addition, I also have a nice Stephens Tru-Sonic P-30 horn speaker!
Along with those highlights, the sale is filled with lots of interesting vintage objects, kitschy finds, a fun selection of vintage clothes, lots of wall art, a large Pacific pottery low urn, a beautiful Hardman baby grand piano in excellent condition, a spectacular mid-Victorian era drop front desk from the Nausau Hotel in Los Angeles, cut crystal, several nice fine China sets (including a huge selection of Franciscan Apple pattern china), two sets of Flintridge Cocoa Rose china, 70's lamps, vintage linens and baby clothes, and on and on.
Much of this sale will be fun digger stuff and as always there is the fun discovery hunt through of all the rusty and crusty with plenty of who knows what.
Best thing to do is take a look at the photos and descriptions, and plan on coming by and having a good time!
I will be taking text messages for questions and also if you are interested in getting on our first entry list. (How our first entry works is that you send us a text to save you a place in line for first entry. The order is set according to the order that the texts come in. You need to show up by 8:30am to get lined up for the first entry group)
As always we run a fun and fairly priced sale. Discounting will on the second day of the sale..doors open at 9 am Saturday morning. So come on by and have some fun!
Come by and have some fun at this cool and funky estate sale!We have a ton of images on our SIERRA MADRE ESTATE SALE LISTING that you should click on and browse (and we have some great images below). We encourage you to take a look there AND THEN MAKE PLANS TO COME THIS WEEKEND!
See you there, the sale starts on Saturday morning at 9am
QUESTIONS? You can always reach me by cell (951) 316-0429 or email rsvandermolen@aol.com