Cute, Clean and Classic Glendale Estate Sale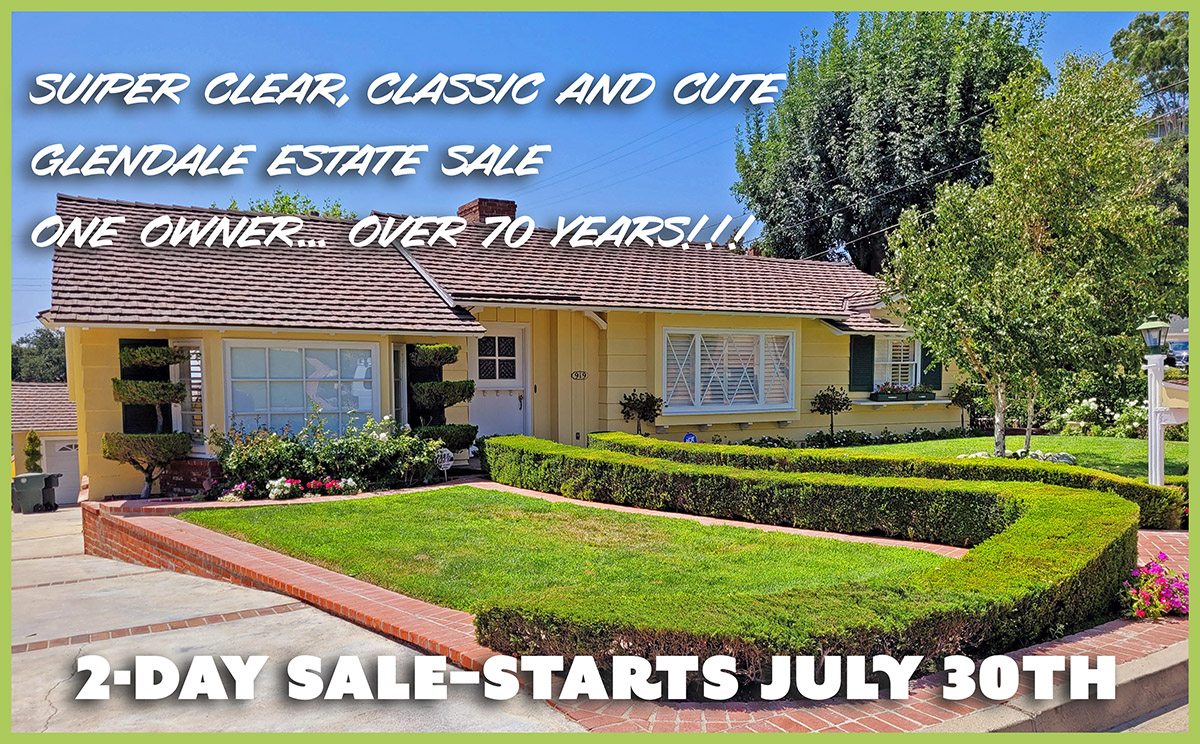 Dates: Saturday July 30th (9am till 3pm) and Sunday 31st (9am till 2pm)

Thanks to everyone that turned out to our wonderful Whittier sale last weekend–it was a great sale and a load of fun for everyone that came. Well, once again we are back-to-back and presenting an amazingly clean and wonderfully cute vintage cottage home tucked away in the hills of Glendale.
We have done a ton of older homes with long-term owners and they seldom get any cuter than this, both inside and out. This charming home has been meticulously cared for by the same owner for 71 years–and the pride of ownership shines through here.
There is a nice store of vintage furniture, art objects, yard art, and other fun objects that abound in this little gem of a home.
The featured highlight of this sale is a beautiful and classic design Sheraton dining room set, with inlaid accents, 6 chairs, along with a matching buffet and side table/ server.
Coming in as a close second is a very fashionable, yet timeless, tucked leather sofa with brass tack accents. It is in great shape and a piece that never goes out of style.
We have some great lamps and lighting available, moroccan style pendant lamp, several pieces of Lladro, an abundance of quality silver plate, glassware, wrought iron breakfast set, kitchenware, and plenty of other delights to discover.

As always, we try to run a fun, happy sale. Our pricing is always fair, and we are happy to answer questions via text. 951.316.0429 Ron. The doors open at 9 am Saturday morning, and I will have a list for lining up purposes put out the day before the sale. Please do not disturb the occupant!
Come on by! This is an open sale, no appointment needed.
Take time to check out all the photos and descriptions, and come on by for a very fun and unique sale. We want to sell it all, so pricing will be fair. The sale starts at 9 am Saturday and also Sunday morning.
Please feel free to text me with any question you may have regarding this wonderful estate…I am happy to help.
Interested in first access? We will have a sign-up sheet up on Friday, but please do not disturb the occupant!
QUESTIONS? You can always reach me by cell (951) 316-0429 or email rsvandermolen@aol.com