Wonderful and Luxurious Liquidation in the Whittier Friendly Hills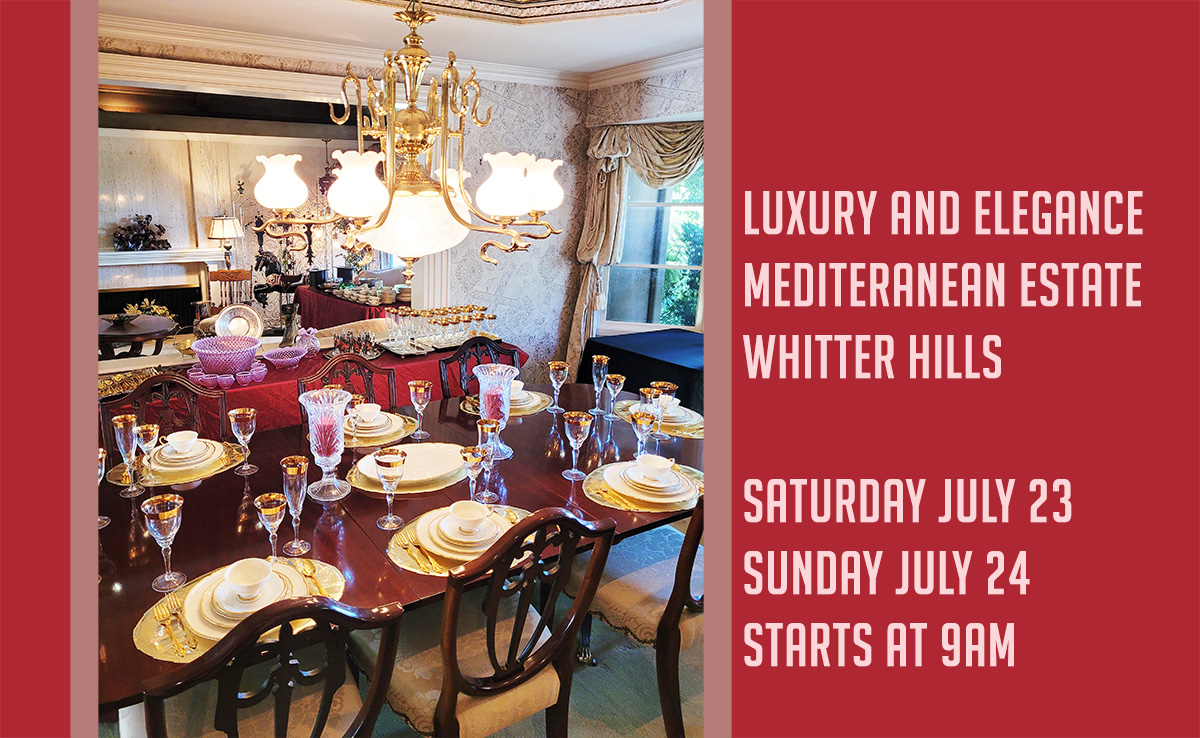 Dates: Saturday July 23rd (9am till 3pm) and Sunday 24th (9am till 2pm)

Well, we have finished our set-up on this fabulous estate home and it is going to be quite the sale. We posted tons of new pictures, over 200 in all, and we invite you to take a look, just keep in mind that there is plenty more besides what you see! You can view the images on our whittier estate sale listing.
This home is quite special. It was this family's dream home and it shows in the meticulous and custom design, with homeowner attention to every detail.
The estate is full of custom furniture, accessories, lamps and the list could go on for ages. Some of the many treasures we have discovered on this property include:
Wonderful and quality outdoor furniture, including several patio sets and 2 nice outdoor heatersv
Outdoor statues, both bronze and concrete, as well as other landscape decorative pieces and planters
Inside beautiful furniture that has elegance and classic style
Wonderful range of lighting and lamps
Many high-end accessories and decorative pieces
A very classic dining room set with 8 chairs… with extensions this table stretches out to 11 feet!
An array of beautiful mirrors… we saw the receipts and these are the real thing
A great selection of well made silk plants and flowers
The kitchen that is just loaded with super cooking goods, fine china, glassware and even a Kenmore wine fridge
Special art pieces include 2 authentic Tom Bennett bronzes, a stunning Maitland Smith lamp and a very intriguing Maitland Smith bronze elephant table
Also featured, a Frogman bronze frog sculpture
There is a wonderfully restored turn-of-the-century motorized player piano (it looks amazing)
A large Fostoria rose hobnail punch set
A Tom Marlatt painting
Crafting supplies, clothing, and on and on…
Of course, no Vander Molen sale is complete without a packed full "diggers delight" garage and this one will not disappoint. Loads of holiday decorations, boxes stuffed with household goods and even a full side room loaded with tools and hardware.
There is plenty more that we have not listed, so you will just have to come by to discover for yourself. This is a wonderful sale not to be missed…located in a beautiful section of Friendly Hills. The doors open at 9 am Saturday morning.
Come on by! This is an open sale, no appointment needed.
Take time to check out all the photos and descriptions, and come on by for a very fun and unique sale. We want to sell it all, so pricing will be fair. The sale starts at 9 am Saturday and also Sunday morning.
Please feel free to text me with any question you may have regarding this wonderful estate…I am happy to help.
QUESTIONS? You can always reach me by cell (951) 316-0429 or email rsvandermolen@aol.com