Join Us in this Lovely and Classic San Marino Estate Sale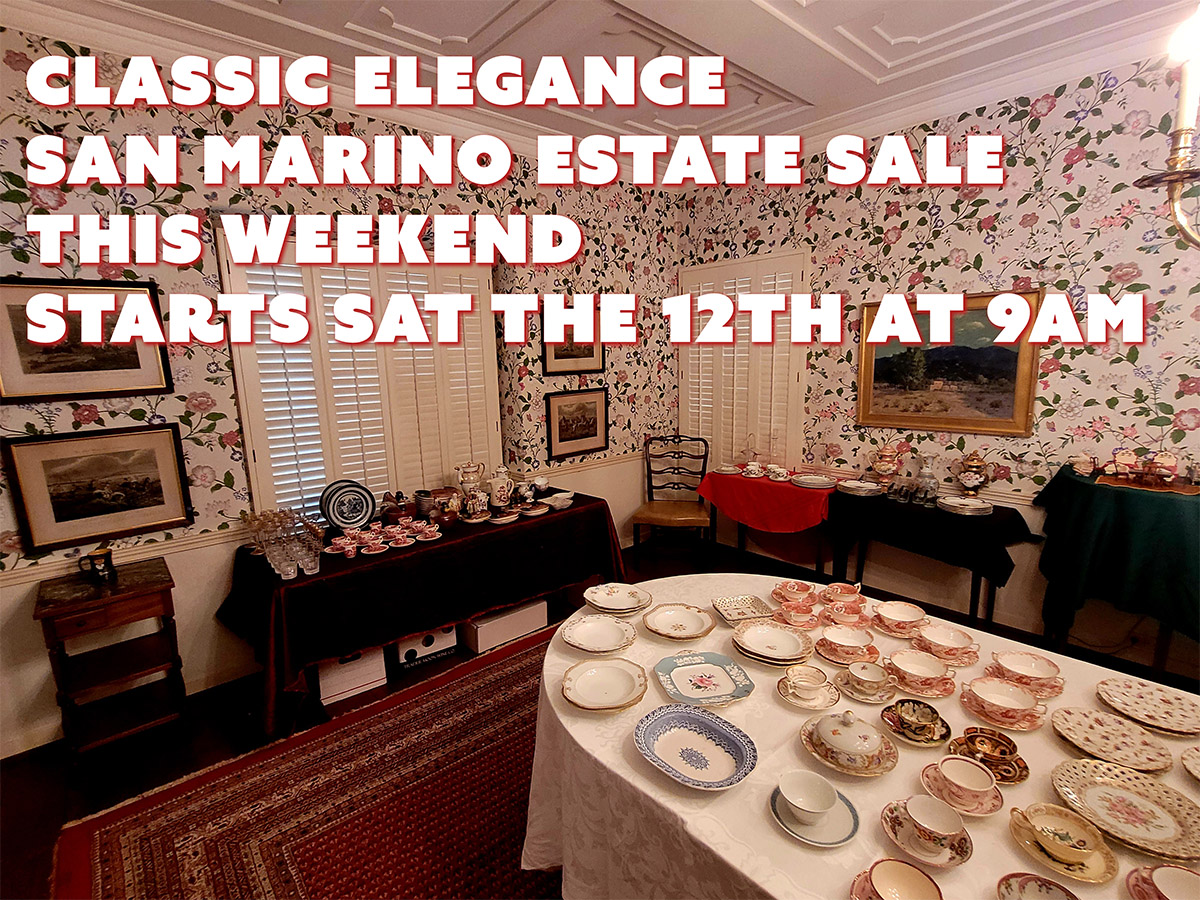 Dates: Saturday August 12th (9am till 3pm) and Sunday 13th (9am till 2pm)
Address: 708 Winston Ave, San Marino, CA 91108

We are back with a beautiful and elegant liquidation in San Marino. This historic 1930 early California ranch home is a true gem of that era and style, with large oaks, and 5000 sq. ft of single story floor space.
The highlight of this sale is the collection of fine art, including many listed Californian and American artists. There are a number of lovely oil paintings as well as other media as well.
There is a vast assortment of fine china, fun objects and curiosities, lamps, attractive Persian rugs, classic furniture and many fine, old books.
You will have a great time looking through the cool vintage women's and men's clothing (dresses, shoes, hats, men's fedoras, bags and even vintage furs!). Moving outdoors you will find interesting yard art, planters, pots and great patio furniture (including Brown Jordan).
And, of course, your favorite… an digger's garage full of interesting finds!
Make sure to look at the over 150 photos of the sale, especially all of the fine art for sale. There are helpful notes there as well to aid in identifying items.
And it ALL has to go this weekend. So, as we always do, everything is priced fairly and clearly with the intention to clear the home!
So come on by and have some fun, while you find some treasures! Get your best selection on Saturday and then be sure to come back on Sunday for amazing deals.
You will find we run a friendly sale, and feel free to text me with questions.
Be sure to check out all the additional photos on our SAN MARINO 91108 CA ESTATE SALE LISTING and then be sure to come this Saturday (and again on Sunday for deals!).
Please text with with any questions on items. I am happy to help! And, if you want to be put on the "first in line" list, then please text me your name and be there at 8:30 this Saturday morning to line up. It is a small home but full of fun nooks and crannies to explore.
See you there, the sale starts on Saturday morning at 9am
QUESTIONS? You can always reach me by cell (951) 316-0429 or email rsvandermolen@aol.com