What a Great and Surprising Estate Sale! One-of-a-Kind!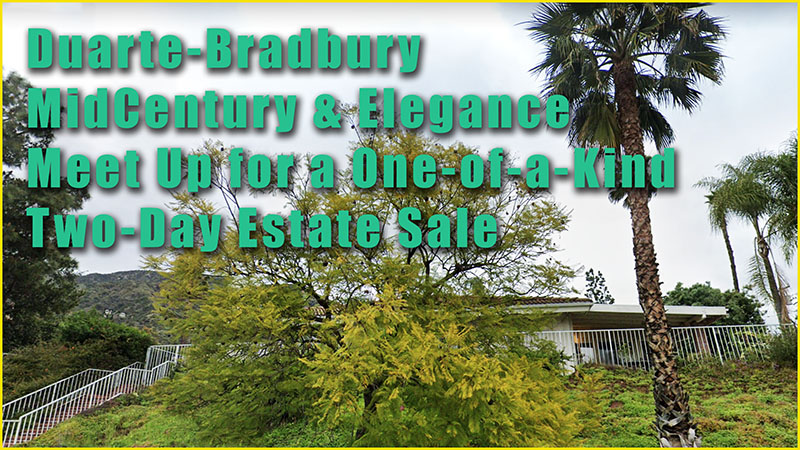 Date: SATURDAY October 31st and SUNDAY November 1st
Hours: 9am to 3pm (till 2pm on Sunday)
Address:
2233 Rim Road
Duarte, CA 91008
For more images, please visit our listing on ESTATESALES.NET: Link to Duarte Estate Sale
NOTE: WE WILL BE OBSERVING HEALTH AND SAFETY MEASURES, PLEASE WEAR A MASK, MAINTAIN SOCIAL DISTANCING (WE MAY LIMIT THE NUMBER OF INDIVIDUALS IN THE HOME AT ANY ONE TIME) AND WE WILL HAVE SANITIZER AVAILABLE.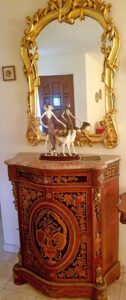 We are back with a beautifully unique sale in the very lovely Bradbury pocket of Duarte. What a fabulous mix of styles, from elegance to fun midcentury art and furniture to some highly decorative furniture, this sale is a one-of-a-kind mix. The family lived here for many, many years, and have left a treasure trove of interesting and fun items.
Let's start with the wonderful selection of quality, vintage rattan/bamboo furniture–including an amazing set produced by Ficks-Reed (a classic American manufacture that was located in Ohio), just beautiful. These vintage rattan pieces really set the mood of this sale: starting off with the 3-piece matching Ficks-Reed set, then we have a classic round table and 4 chairs, a round coffee table, a super-cool smaller side board, some tall and short stools, a dynamite small bar, tall display shelf unit, sofa with a cool wrap around rattan feature, long narrow coffee table and much more–likely the very best collection of vintage rattan/bamboo furniture that we have ever had to offer in one sale.
For the midcentury lovers out there, there are quite a number of great pieces to choose from, such as: two working stereo unit, one tall and one long and sleek, both Magnavox and both look amazing. A nice tall cabinet/combo bookcase, painted green console cabinet, side tables, tea cart, and a nice selection of midcentury barware glasses, etc.
Taking a step away from midcentury, the sale has a number of very elegant and decorative items. There are a couple of gorgeous French-style inlaid cabinets, an inlaid tea cart, a gilt carved mirror, several very elegant lamps, a pair of large cloisonné lamps and quite the mix of fine accent and decorative pieces.
And wait till you see this styling 70's full and bedroom set and the oh-so-cool 60's avocado-green chests.
There is plenty of great kitchenware, an assortment of purses, men's and women's clothing, hand woven Persian rugs, some really great wall art, including some original oil paintings, boxes and boxes of yarn and thread, a large garage that is packed with "digger deals" and a near-new Maytag washer and GE dryer.
All in all, a fun two day sale with something for everyone. As usual, doors will open at 9 am Saturday and Sunday, with discounts the second day. I will be putting out a first entry list on Friday at noon. So come on out and have some fun. Feel free to contact me with any questions regarding this sale. Come have some fun!