Our Next in Our Summer Line-Up of Estate Sales a Classic and Old Home in Pasadena
Dates: SATURDAY June 12th from 9am to 3pm and SUNDAY June 12th from 9am to 2pm
NOTE: TO PROTECT YOUR HEALTH AND THE SAFETY OF OTHERS, WE WILL BE OBSERVING HEALTH AND SAFETY MEASURES. WE MAY LIMIT ENTRY AS NEEDED. PLEASE WEAR A MASK, MAINTAIN SOCIAL DISTANCING AND MAKE USE OF THE HAND SANITIZER THAT WILL BE AVAILABLE.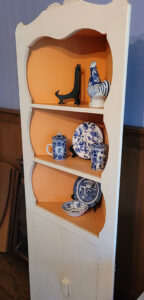 Boy, what a fine sale last week in Glendale and we are back-to-back with another grand, old Pasadena home located in the upscale South Lake District.
This is a large home and the outstanding feature of this sale is the massive women's clothing collection!! It is really, really huge and has likely accumulated for 50 years! That being said, the clothing is in good condition and many items still even have tags on them. Due to the vast amount and scope of the inventory, we are going to price most everything between $2 and $10, with bulk discounting in full force! There are shoes, hats, dresses, skirts, coats… boy there is a lot! The sizes range between 12 and 16 and we have quite a variety to choose from. Great names and great brands to be had at SUPER DEAL PRICING.
There is quite a bit more to be found in this large home. You will find quite a bit of attractive and affordable furnishings including lamps, decorative items, wall art, a Bombay chest and several extremely nice woolen Karastan carpets. There is a quality dining table with 8 chairs, a China hutch and many other furniture pieces to choose from.
There are fine china sets, kitchenware, Blue Willow plates, English china, lovely flow blue plates, beautiful glassware (including a set of Waterford crystal). Check out the really fun red and flowery cookware, it will brighten any kitchen.
There is a vintage Exercycle, perfect for losing those "stay at home" pounds from the past year. And of course, like all our fun sales, there is a ton of "diggers delight" happening as well.
Want an early chance at these items? I will have a list out Friday afternoon for first entry. See ya there!
We have A LOT to offer you and this all has to go in just 2-days. YIKES!
QUESTIONS? You can always reach me by cell (951) 316-0429 or email rsvandermolen@aol.com
Here are a selection of images from our Pasadena Estate Sale. For more images, please visit our listing on ESTATESALES.NET: