Post Xmas Flash Sale–One Day Only in Pomona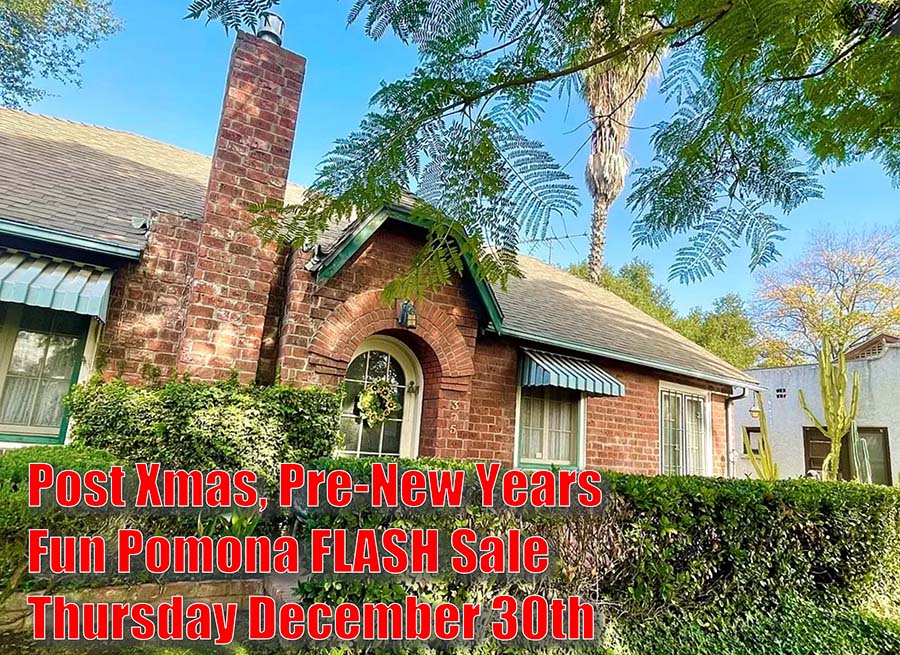 Dates: Thursday December 30th (9am till 3pm)
For more images, please visit our listing on ESTATESALES.NET: Link to Pomona CA Estate Sale

What a perfect way to send off 2021 with a fun, one-day FLASH estate sale in this charming Pomona cottage.
This cute brick home was the long-time residence of a midwest snowbird. For many years this was her refuge from the bitter winter cold and she created a comforting and cozy home to escape to.
It was furnished with many vintage items, antique furniture, lovely decorative items, art work, fun collectibles and even two ceramic kilns! Lots of old photos, fossils, kitchen and household items, clothing and of course that ever popular garage digging site!
It is a small home, with lots of goodies, so we are doing a one-day sale to clear it all out. It all has to go in a day and we will be staging this liquidation mid-week. The sales starts on this Thursday, December 30th. Doors open at 9am and it will all be priced to sell.
We always price fairly and you will find us friendly and helpful. Feel free to text me with any questions regarding the sale or items… We are happy to help. Come on by for some fun, and great bargains! Doors open on Thursday morning at 9 am. See you then!
QUESTIONS? You can always reach me by cell (951) 316-0429 or email rsvandermolen@aol.com