Loaded Estate Sale in Upland–Super Selection of Quilting Supplies and Machines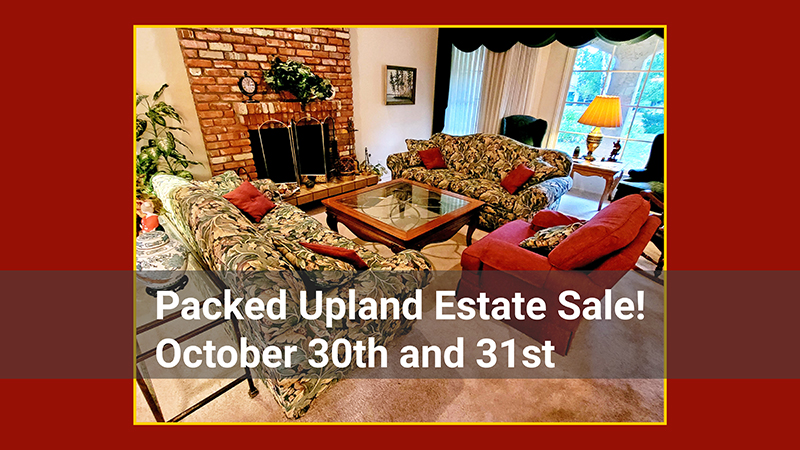 Dates: Saturday October 30th (9am till 3pm) and Sunday October 31st (9am to 2pm)
For more images, please visit our listing on ESTATESALES.NET: Link to Upland CA Estate Sale

Here we are again with another unique doozy of a sale!
If you love sewing or quilting, then this is the sale for you. This lovely Upland home features a fully equipped quilters room with several great machines, including a 14-ft Millennium Quilting Machine (made by American Premium Quilting Systems, https://www.apqs.com).
There are tons of quilting books and magazines, patterns, custom sewing tables, thread and other small tools, plus a like-new Singer featherweight sewing machine with all the attachments. Plus loads of beautiful fabrics and things for every quilting need.
And there is MUCH, MUCH more to be found at this sale. A jumbo selection of nice women's and men's clothing, ties, shoes and accessories. And it is ALL priced to MOVE!! Really some super clothing bargains to be had here.
The home offers plenty of quality furniture (check out the lovely Wingback chairs and the super bedroom set), tons and tons of children's books, a great selection of games, kitchenware, cook books, china sets, cookware, wall art, original art and other decorative items.
We have a great full-size Frigidaire freezer plus lamps, two very nice dining room sets, patio set and a DIGGER'S paradise in the garage.
We always price fairly and you will find us friendly and helpful. Feel free to text me with any questions regarding the sale or items…I am happy to help. We will be putting out a line up sheet on Friday by noon for first entry. Come on by this weekend for some fun, and great bargains! Doors open on Saturday morning at 9 am. See you then!
QUESTIONS? You can always reach me by cell (951) 316-0429 or email rsvandermolen@aol.com