Monrovia Estate Sale–Original Art, Highly Crafted Furniture, Decorative Items and Much More!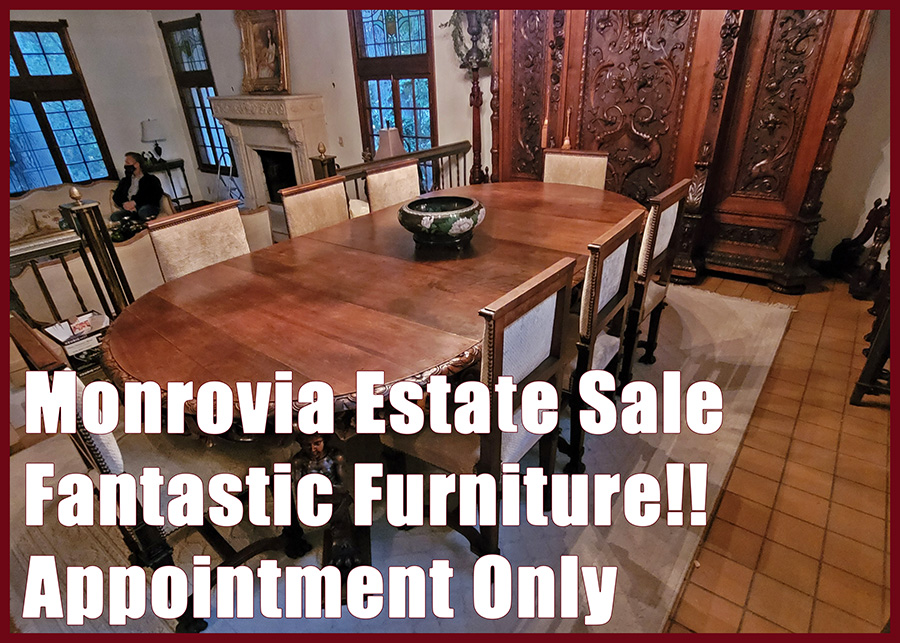 Dates: FRIDAY (01/29) and SATURDAY (01/30) from 9am to 3pm. Then SUNDAY (01/31) is DISCOUNT DAY from 10am till 2pm.
Address: WILL BE GIVEN WITH APPOINTMENT
For more images, please visit our listing on ESTATESALES.NET: Link to MONROVIA Estate Sale

NOTE: TO PROTECT YOUR HEALTH AND THE SAFETY OF OTHERS, THIS IS AN APPOINTMENT ONLY SALE. HOWEVER, WE WILL STILL BE OBSERVING HEALTH AND SAFETY MEASURES, PLEASE WEAR A MASK, MAINTAIN SOCIAL DISTANCING AND MAKE USE OF THE HAND SANITIZER THAT WILL BE AVAILABLE.
We are proud to be bringing you another exceptional sale. Once again, circumstances require an "appointment only" sale, so that we can offer a safe environment to our clients.
This sale is loaded with amazing items of rarity, quality and beauty. There are lovely works of bronze. The original artwork includes two large nouveau paintings by well known Austrian Art Nouveau painter Alois Hans Schramm (1864-1919).
The Lladro collection is superb! One of the finest and most extensive to ever cross my path.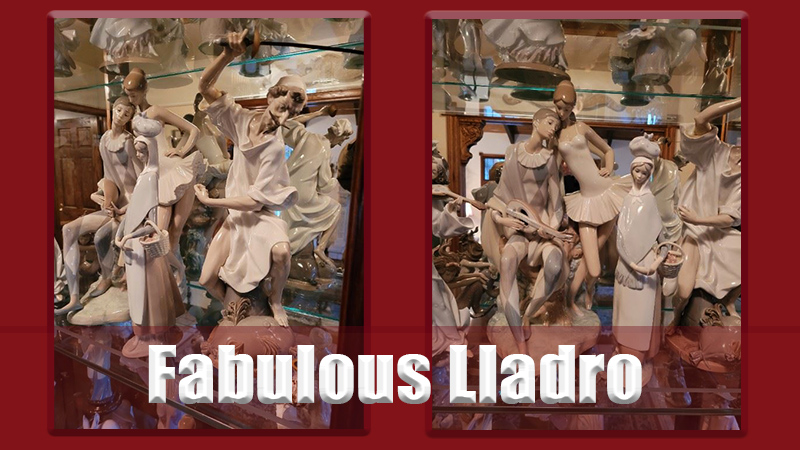 The contents of this sale cover so much territory that you MUST check out the following link to see all the images. Everything from fine art to bronze helmets to an ornate French clock to midcentury items… the list is exhausting!
And then there is the wonderful, beautiful and really magnificent array of ornately crafted furniture.
Leading the pack, the large Baroque-Renaissance Revival Armoire is truly a statement piece. In over 3-decades of professional involvement in the antique trade, I have not come across a better, more finely carved piece.
Other pieces of this type include:
A Fabulously carved large cabinet with painted leather panels.
An outstanding Baroque dining room table, adorned with a level of figural carving and ornamentation that is rarely seen.
A set of 12 Renaissance revival dining chairs–quite unusual to find that number of matching chairs.
A large Hunter-Style cabinet is a unique piece that is a true 10+ in both quality and detail.
A beautiful Renaissance revival bedroom set.
The furniture is in excellent condition. For further detail, please view our many images on the following estatesales.net listing link. For these unique and large pieces, I am available for early appointments to view the furniture.
TONS OF PICTURES! VIEW MORE: CLICK THIS LINK TO MONROVIA ESTATESALES.NET LISTING
ONCE AGAIN, ALL MAJOR FURNITURE PIECES ARE AVAILABLE FOR PRE-SALE
We will be taking appointments on a "first come, first serve basis" and starting at 10 am each day. Friday and Saturday appointments will be between 10 am and 3 pm. Sunday will be set up for limited access between 10 am and 2 pm–and we strongly suggest rebooking for Sunday as we will be discounting to clear EVERYTHING on that day.
We will enforce all pandemic protocols, and Masks Are Required (sanitizer and gloves will be available). This is a sale you don't want to miss! We will see you this weekend!
Please feel free to contact me with any questions regarding this sale. You can contact me with any inquiries at (951) 316-0429 or email me at ron@rsvandermolen.com.