Fabulous Mid-Century Classic in La Habra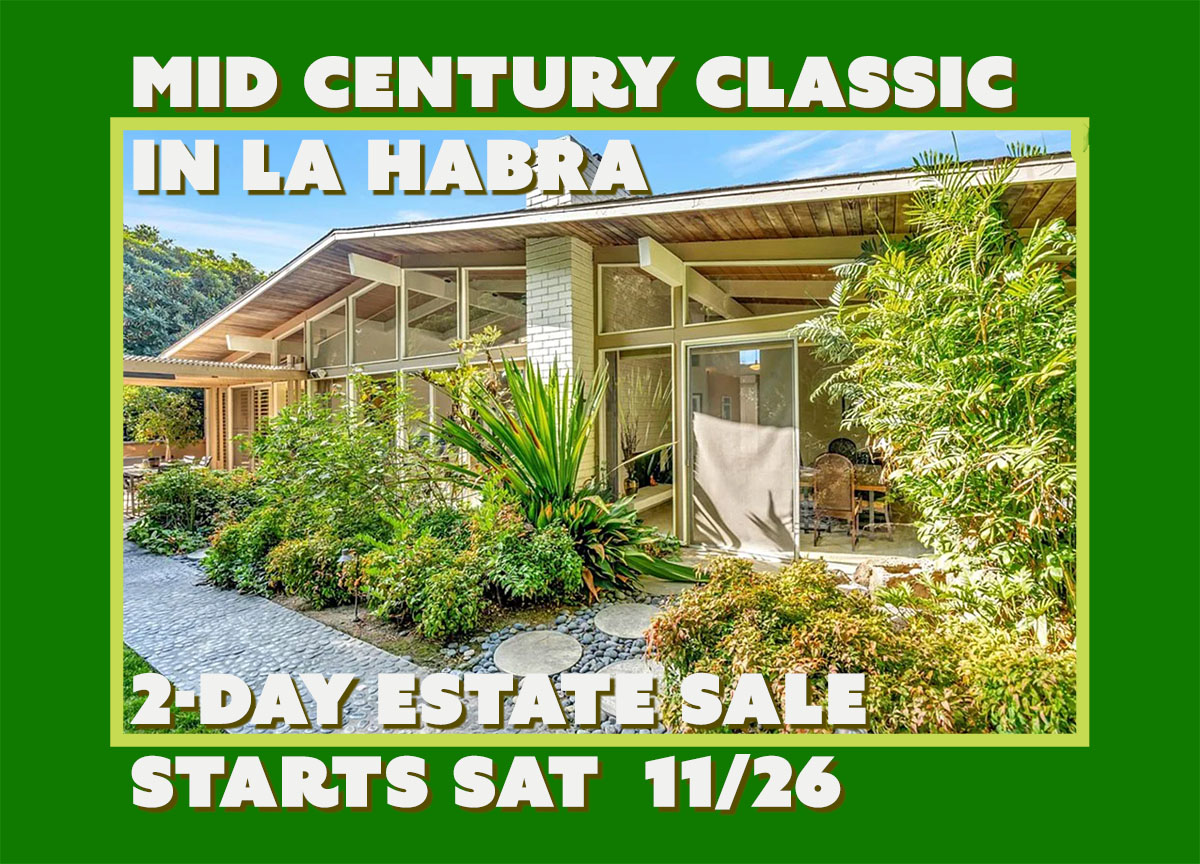 Dates: Saturday November 26th (10am till 3pm) and Sunday 27th (10am till 2pm)

Well, we had a jam packed, fun and fabulous Palm Springs sale last week and we are proud to follow that one up with a stunning example of midcentury style and design. This wonderful and beautiful estate is nestled in the lower hills of La Habra, adjacent to the Friendly Hills neighborhood in Whittier.
This truly elegant midcentury classic (it is worth coming just to see the home!) reflects the tastes and interests of its former owners. The long-term residence of two doctors, they poured their good taste and style into every corner of this home. Over the years, they spared no expense on its furnishings and decor.
There are many, many items of quality, such as: a fine Schafer and Sons Ebony Baby Grand Piano, a wonderful selection of original art, custom contemporary furniture, an amazing circa 1915 Austrian secessionist Ebony large cabinet, Nikki Imber original bronzes, Judaica and Jewish interest items.
There is much more, including fine patio furniture, potted plants, Baccarat crystal, a great selection of books, large Breezeaire wine refrigerator, fine glassware by Tiffany, Orrefors, Waterford, and Lladro,
And yet more! Lovely carved African art and figurals, good exercise equipment, art pottery, midcentury pottery, a killer modern Rosewood dining table with 8 chairs (Big Thanksgiving dinner? No problem, it opens to 10 ft), a unique contemporary buffet with wine racks and even a large bird cage. There is a fine and huge selection of designer and vintage clothing for men and women, custom pillows and, of course, the discovery garage full of digging and finds.
As our regulars all know, we aim for fun and interesting sales and we always work to price fairly with the goal of SELLING IT ALL! The doors open for this sale at 9 am Saturday morning, and is a two day sale. EVERYTHING MUST GO! And, due to the number of large items in the sale, we will also have a delivery person available on Sunday for any heavy purchases.
I will have a first entry list put out by Friday afternoon.Feel free to text me with any questions you may have… I am happy to help. Ron
Please feel free to text me with and questions. I am happy to help. Come by and have some fun at this cool and funky estate sale!We have a ton of images on our LA HABRA ESTATE SALE LISTING that you should click on and browse (and we have some great images below). We encourage you to take a look there AND THEN MAKE PLANS TO COME THIS WEEKEND!
See you there, the sale starts on Saturday morning at 10am
QUESTIONS? You can always reach me by cell (951) 316-0429 or email rsvandermolen@aol.com