Great Vintage Estate Sale in West Covina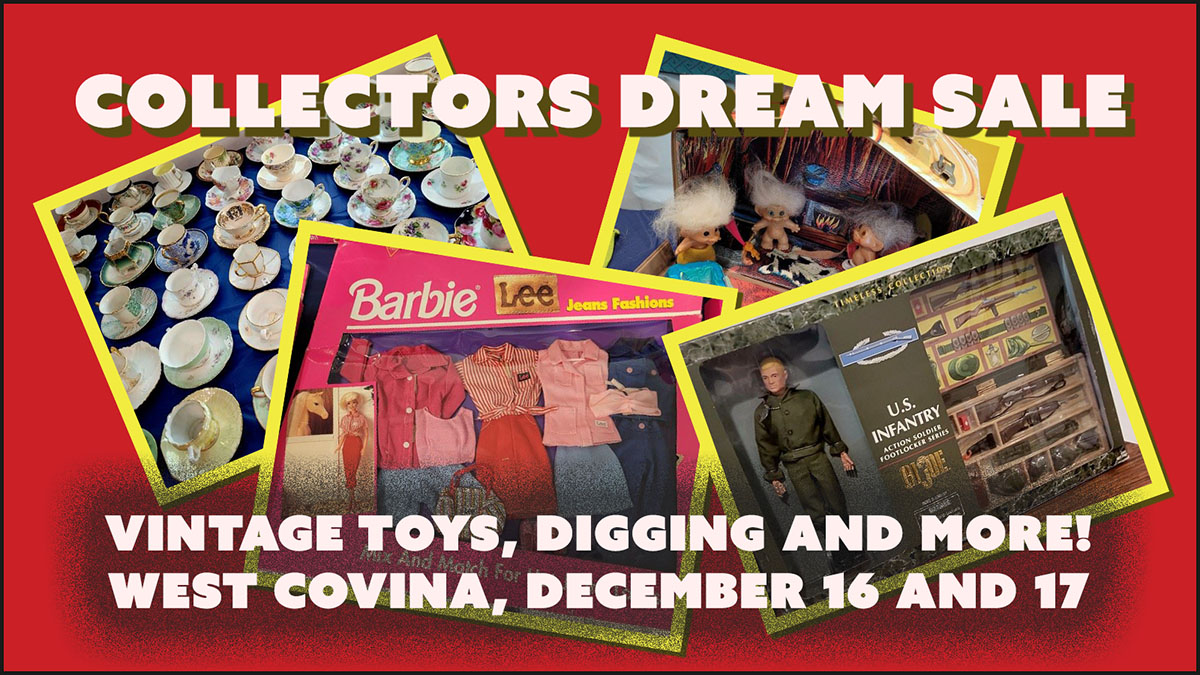 Dates: Saturday December 17th (9am till 3pm) and Sunday 18th (9am till 2pm)

As we draw to the end of this year, we have a fun sale that is completely different from any of our other sales this year, this one is all about the owners pursuit of collectibles over the years. A fabulous selection of Barbie Dolls and Barbie related items–we love the MCM Barbie vintage Dream House–to the many and varied collection of GI Joe dolls and related equipment and gear! Plus, loads and loads of a Hot Wheels and, of course, some Star Wars collectibles as well. Many of these are in their original packaging as well.
There are other miscellaneous collectible items to discover as well, including sports memorabilia and PEZ dispensers.
But, that is not all! There is a HUGE collection of COSTUME JEWELRY, tea cups galore, Christmas ornaments, vintage radio tubes, computer and video games, some really nice outdoor potted plants (Plumeria and others), a brand new GE under the counter microwave, a brand new GE dishwasher and, of course, a treasure trove of fun digging discoveries!
There are several nice pieces of art. Of note is a very rare James Coleman "First Look at Neverland" (27/30 artist proof) giclee.
As usual, we want to sell it all, so our prices will be fair. Sale days are this coming Saturday and Sunday, with doors opening at 9 am both days. No presale, please. But feel free to send a text to me with any of your questions… I am happy to help.
Come on out. It is a great opportunity for some Christmas shopping for either yourself or those on your Christmas list or just to add to your own collection!
Please feel free to text me with and questions. I am happy to help. Come by and have some fun at this cool and funky estate sale!We have a ton of images on our WEST COVINA ESTATE SALE LISTING that you should click on and browse (and we have some great images below). We encourage you to take a look there AND THEN MAKE PLANS TO COME THIS WEEKEND!
See you there, the sale starts on Saturday morning at 10am
QUESTIONS? You can always reach me by cell (951) 316-0429 or email rsvandermolen@aol.com