Unique and Beautiful Palm Springs Estate Sale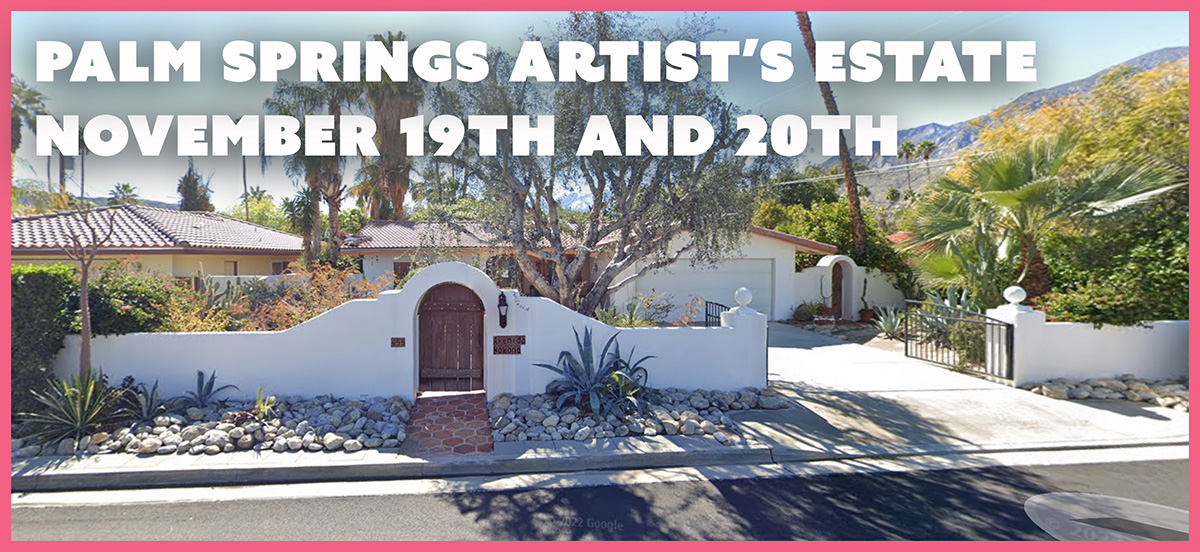 Dates: Saturday November 19th (10am till 3pm) and Sunday 20th (10am till 2pm)

What a treat this sale is! This Palm Springs "eye candy" estate sale was the home of lifetime accomplished artists and professors of art, Bill Proctor and Ron Childress. It boosts a huge collection of original fine art, pottery, art objects. From the whimsical to the eclectic there is something of eye catching interest for everyone.
Along with a vast selection of original fine art, as suits this classic home, there is a great deal of art and art objects that were created by the two artists themselves. You will see an enjoy (and hopefully collect) the work of these creative artists as demonstrated in their paintings, pottery, collages, fabric wall art and much more.
The home is filled with a lifetime of sketches, notebooks, a huge library of books on art, design, gay interest and so much more. A sample of what the sale offers is:
Original paintings and wall art
Huge selection of art pottery
Assorted masks from different cultures and regions, including African wood sculptures and masks
Rustic furniture, designer style lamps, showcases, a large red Chinese armoire and woven rug
Fabrics, hats, clothing, some jewelry and watches
Huge collection of art, books, photographs, magazines, paintings
Art work, photos, books and other items of gay interest
Block prints and linoleum cuts
Outdoor pots, plants, yard art and outdoor decorative items
CD's and a huge selection of books on design, style, poetry, and so forth
Religious artifacts and a vast selection of Tarot Cards
Household goods, including an nice selection of All-Clad cookware
2 framed Japanese kites
And of course, no sale would be complete without a garage full of digging and discoveries, this one features many art supplies, including brushes, paints, w/c paper, canvases.WE WANT TO SELL IT ALL!! So, we have priced everything fairly in order to sell it all this coming weekend. So come on by Saturday morning! Doors open at 10 am.
INTERESTED IN FIRST ENTRY? There will be a list put out for you to sign up for first entry on Saturday morning.
Please feel free to text me with and questions. I am happy to help. Come by and have some fun at this cool and funky estate sale!We have a ton of images on our PALM SPRINGS ESTATE SALE LISTING that you should click on and browse (and we have some great images below). We encourage you to take a look there AND THEN MAKE PLANS TO COME THIS WEEKEND!
See you there, the sale starts on Saturday morning at 10am
QUESTIONS? You can always reach me by cell (951) 316-0429 or email rsvandermolen@aol.com