Classic 1913 Pasadena Historic Estate-Liquidation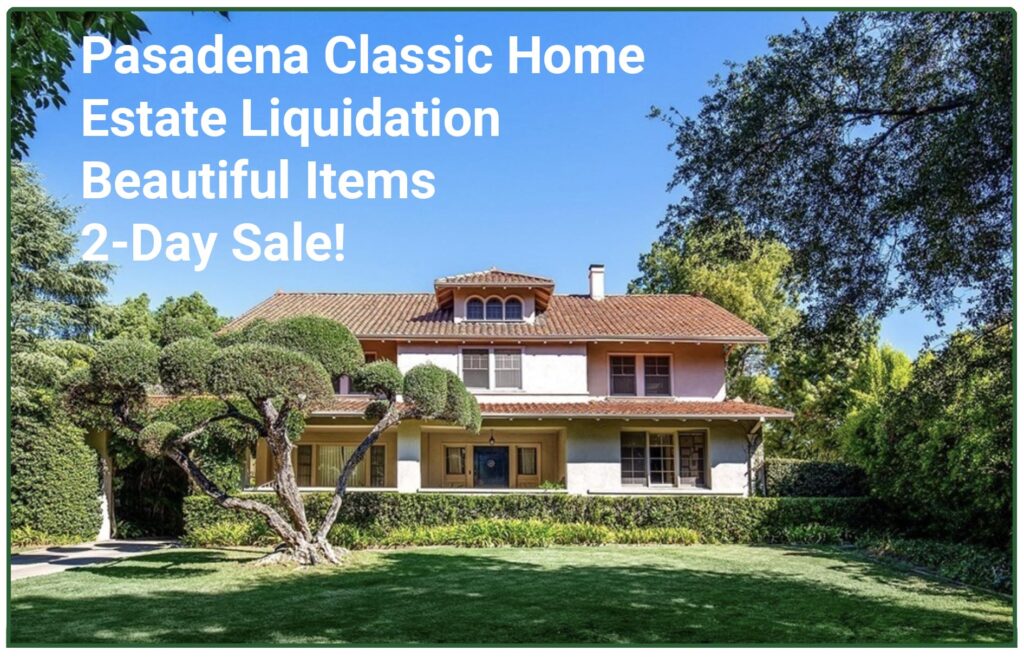 Dates: Saturday December 11th (9am till 3pm) and Sunday December 12th (9am to 2pm)

What a great way to start off this holiday month, with a visit to this classic Pasadena mansion estate liquidation sale.
This 5000 SF historic home was built in 1913, and lovingly preserved for over 100 years. As you step into our sale, you, you will discover a beautiful selection of classic furniture, fine art, handmade rugs, and a terrific choice of books–from antiques to modern classics.
Of special interest is a classic mid-century Dunbar dining room table with 6 chairs. Dunbar is one of the finer names in handcrafted American furniture and pieces by this firm continue to command lofty prices.
There are numerous other fine pieces of furniture: several bookcases, desks, lamps, an antique harvest table, chairs, Brown Jordan patio furniture and so forth.
We are offering a large selection of All Clad cookware, glassware, kitchen items and throughout the home you will find original art, including listed artist paintings and art etchings, antique English prints as well as decorative items.
It is a lovely sale and a beautiful home to tour as well!
Doors open at 9 am Saturday morning, and we will be discounting on Sunday. This is a great sale to purchase some fine items at our always fair prices.
Check out the photos and feel free to text me with any questions or additional information you may need. I have provided descriptions with many of the photos. Happy to help! Come on by and have some fun shopping !
We always price fairly and you will find us friendly and helpful. Feel free to text me with any questions regarding the sale or items…I am happy to help. Come on by this weekend for some fun, and great bargains! Doors open on Saturday morning at 9 am. See you then!
QUESTIONS? You can always reach me by cell (951) 316-0429 or email rsvandermolen@aol.com