A Fun and Surprising West Covina Estate Sale – TWO-DAY SALE
Dates: Saturday October 16th (9am till 3pm) and Sunday October 17th (9am to 1pm)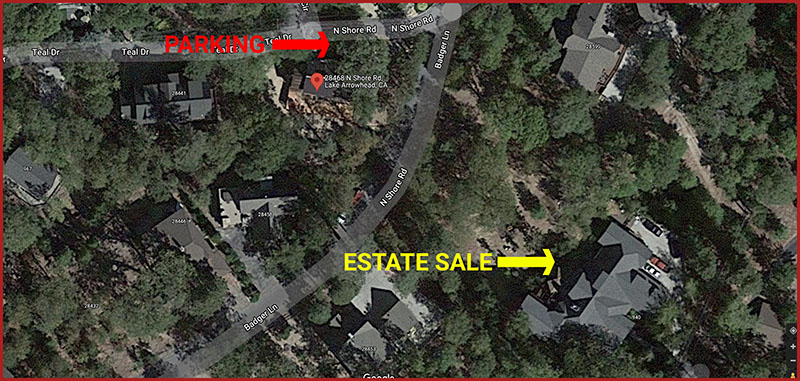 The estate address is 940 Shelter Ridge Road, but park on North Shore Road and we will provide easy access from there.
This is a fabulous, quality sale. A fine collection of art, antiques, furniture and more!

While we always have great sales, there are those that are TERRIFIC SALES and this is definitely one of them. We do admit that this one requires a bit of a drive but we can assure you it is worth the effort. Plus, you gain a nice break from the city and can enjoy the beauty of fall in Lake Arrowhead while basking in the glow of some fine treasures found.
This is a wonderful and large Lake Arrowhead home. PLEASE TAKE NOTE: As with most homes up here, the location of the estate is a tad obscure but no worries, I have posted detailed instructions of its location and where it is best to park.
Now to the home… it is packed with gorgeous, vintage fine art, beautiful Persian rugs and many fine antiques. There are a number of quaint pieces of Old Hickory furniture, quality linens and quilts, fine china
THE LOCATION OF THIS ESTATE IS SOMEWHAT OBSCURE. I HAVE POSTED DETAILED INSTRUCTIONS OF ITS LOCATION AND WHERE TO PARK.
The home is loaded with vintage fine art (so many original paintings), a lovely collection of handmade Persian rugs and many fine antiques. The home abounds with choice goodies, such as:
2 Hiro Yamagata bronzes
Waterford crystal
A vast collection of small collectibles
Closets full of fine clothing, purses, jackets, winter wear and cashmere sweaters
Garage tools and "digging" delights
An AMAZING and LARGE selection of original fine art
Beautiful household items, decorative and utilitarian
It goes on and on. But you will be delighted by both the variety and the quality to be found in this treasure chest of a home. It is a packed 2-day sale, and it all has to go! We are still hard at work "excavating" the finds, but we have well over 200 images to view on our Estatesales.net Lake Arrowhead Estate Sale Listing, and that is just the tip of the iceberg.
Doors open at 9 am Saturday and Sunday. We always price things to sell, so come on by and have some fun. It is priced to sell and as always, come on Saturday for the best selection and then return on Sunday for the liquidation deals!
There are loads of photos, click to check them out on our Lake Arrowhead Estate Sale listing and plan on coming by to discover some great deals and treasures. QUESTIONS? You can always reach me by cell (951) 316-0429 or email rsvandermolen@aol.com