Whoa, This Is a BIG Vintage Estate Sale!
Date: Saturday and Sunday, June 27th and 28th
Hours: Sat 9-3 & Sun 9-2
Address:
22743 White Fir Lane
Diamond Bar, CA 91765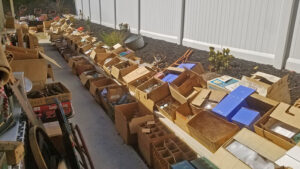 Boy oh boy, this one is LOADED!!!
This is truly a massive DIGGERS PARADISE sale, literally packed to the rafters with vintage goods, antiques, tools of all sorts and that sundry collection of what we like to call "crusty and dusty" galore.
The highlight of this sale is the unbelievable amassing of vintage oil lamps and cool lanterns. (No kidding, there are hundreds of them!!…most of them identified by maker)
There is such a huge collection that is simply so massive that we are doing digger pricing on most of it, just make a pile and we'll price it on the spot.
There is so much to be sold… a lifetime collection at this estate that we are breaking the sale into THREE parts, so this is the first of three told in all.
It seems like an endless journey to uncover it all and as I write this we are continuing to sort, dig and discover as we set up.
We lost count of the number of boxes, so let's just say that there are hundreds of boxes full of lamps, lamp parts, glassware, fishing gear, tools, and odds and ends we are finding in this crazy collection of a life time.
Some of our regulars may remember our awesome digger sale last year in a barn in Glendora, well this one tops that one with a very similar mix of vintage.
Those of you who came to our great digger sale in the old barn in Glendora last year will love this one, a very similar mix of vintage.
As usual, feel free to contact me with any questions. We will be pricing things to sell, and to sell quickly.
Doors open at 9 am Saturday and Sunday morning. I will be putting out a list for first entry on Friday by noon.
Don't miss this great chance to have a great time digging for treasures!!
Sale starts at 9 am Saturday morning. Come early on Saturday for your best choice and come back Sunday for DEALS upon DEALS!
There will be masks required inside the home, and we will be limiting the amount of customers in the house at any one time. I will be putting out a first entry list on Friday at Noon. Feel free to call or text me with any questions regarding the sale. I am happy to help!