Very Interesting and Eclectic San Gabriel Artist's Estate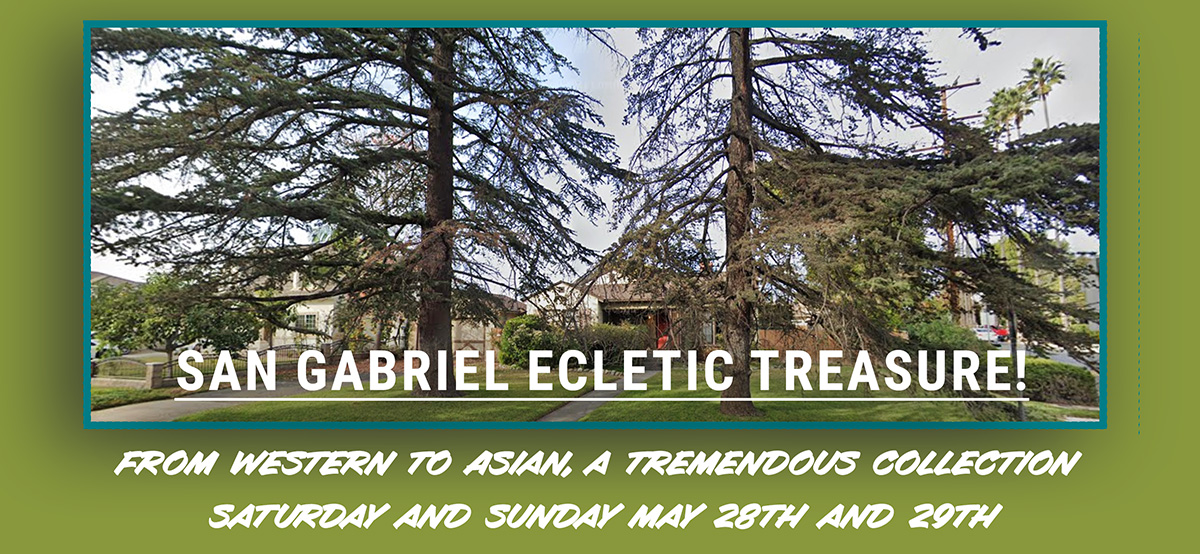 Dates: Saturday May 28th (9am till 3pm) and Sunday 29th (9am till 2pm)

Fun, Unique, Eclectic and Artistic Liquidation Sale!
We are back with a sale that we personally have really been looking forward to. This is a great, fun and diverse collector's sale in San Gabriel. We think that this sale is the very definition of "eclectic" with unique and interesting items to please most any estate treasure hunter!
This is the estate of a long-time industry artist by the name of Paul Showalter. He spent his life creating art and was adept at many skills and involved in a wide range of artistic endeavors. Amongst other things, he illustrated and designed Rose Parade floats for one of the major float building companies (Fiesta Floats), and we have a number of those fun illustrations available at this sale.
There are a number of examples of his works here, from Western themed art illustrations to abstract fine art and even some of his exciting MGM movie posters.
And not just one or two examples, this wonderful estate offers an nice collection of vintage movie posters he worked on, several of his original Rose Parade Float paintings, a number of his western art originals and more than one of his fine abstract artwork–once again, all created by Paul Showalter.
There is quite a bit more beyond this collection of his artwork as Paul Showalter was an avid collector of many things. We are offering up a huge collection of original and beautiful Chinese scrollwork (visit our EstateSales.net listing for the many images). You will find a fine selection of Asian collectibles, Japanese and Chinese woodblocks, western collectibles and primitives, vintage western and other vintage clothing, ties, a collection of pop up books, vintage hats and linens, reverse painted Chinese art, nice collection of vintage lunch boxes, lanterns, toys, Tonka, midcentury pottery, aircraft and mechanical gizmos, and much much more!
This is definitely a sale you won't want to miss. There are numerous more images to be found on our SAN GABRIEL ESTATE SALE LISTING, and we encourage you to take a look there.
Please feel free to text me with any question you may have regarding this wonderful estate… I am happy to help.
Interested in first access to our sale? Get first entrance by texting me and I will add you to the list. The "text me" list is for first line up entry only (not appointments). Being an early bird is your best chance for the best selection!
Come on by! This is an open sale, no appointment needed.
Take time to check out all the photos and descriptions, and come on by for a very fun and unique sale. We want to sell it all, so pricing will be fair. The sale starts at 9 am Saturday and also Sunday morning.
Please feel free to text me with any question you may have regarding this wonderful estate…I am happy to help.
Want to have first access, join my first access group by adding your name to our "text me" list is for first line up entry only. Come on by and have some fun…and beat inflation with some great bargains!
If you want early, first access then please TEXT me
I will add you to our first access list
(951) 316-0429
QUESTIONS? You can always reach me by cell (951) 316-0429 or email rsvandermolen@aol.com