Kicking Off the New Year in Ontario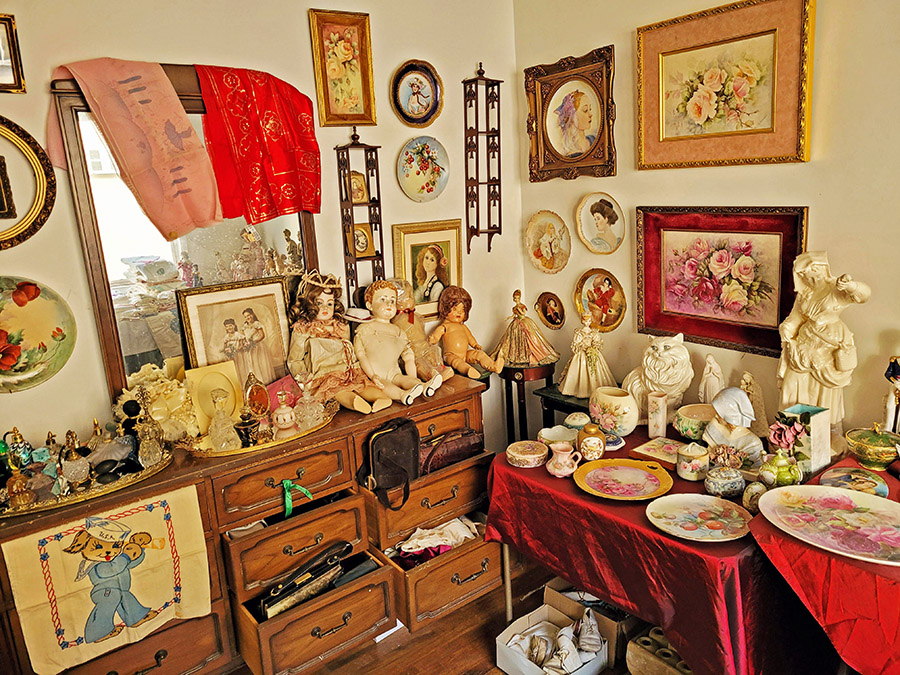 Dates: Saturday Jan 15 (9am till 3pm) and Sunday Jan 16 (9am till 2pm)
For more images, please visit our listing on ESTATESALES.NET: Link to Ontario CA Estate Sale

Wow, what a sale to start the year off! One of the more unique situations we have yet encountered in our estate sales journey over the years. This lovely elderly woman rented her apartment in Ontario for over 75 years, what a bit of history she saw!
Over the many years her family produced an amazing collection of hand painted china, including: many portrait plates, numerous decorative plates, vases, figurines and so much more. It is quite the bounty of decorative china and ornamental pieces. The workmanship and variety is excellent and beautiful.
Along with this vast collection is an equally bountiful collection of beautiful linens and stitchery. You will find many examples of fine glassware and crystal items.
The home is small, but packed with so many vintage items, even an assortment of old Chaffey High School and college yearbooks.
Here is just a partial list:
Lamps
Huge assortment of vintage hats and gloves
Vintage thread and yarn
A wonderful perfume bottle collection
China painting blanks
Limoges and Lenox china
3 vintage China hutches and a cedar chest
Iron patio set
Wall art, including an original Homer Spurlock oil
A vast collection of custom porcelain hand made figural dolls and even some Victorian baby clothes
Elvis Presley memorabilia
Kitchen items and rolling pins
A lovely vintage Stromberg-Carlson stereo receiver and amplifier
And of course… a packed garage for digging discovery
NOTE: This is a small space, even if packed, and is split into the one-bedroom apartment and the outside garage (located in the back of the complex). There will be no physical list put out. Please text me to get your name on the first entry list. There is very limited space in this small apartment.
We always price fairly and you will find us friendly and helpful. Feel free to text me with any questions regarding the sale or items… We are happy to help. Come on by for some fun, and great bargains! Doors open on Saturday morning at 9 am. See you then!
QUESTIONS? You can always reach me by cell (951) 316-0429 or email rsvandermolen@aol.com