It is time to roll with the first of our parade of Summer estate sales, a really fun one located in Glendale!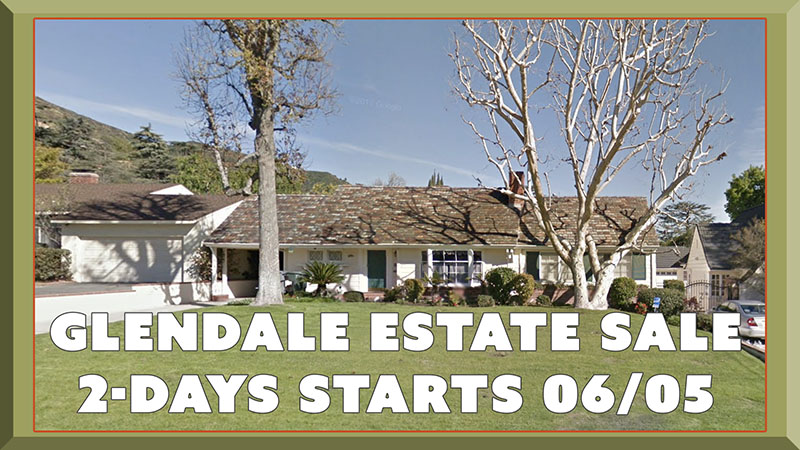 Dates: SATURDAY June 5th from 9am to 3pm and SUNDAY June 6th from 9am to 2pm
NOTE: TO PROTECT YOUR HEALTH AND THE SAFETY OF OTHERS, WE WILL BE OBSERVING HEALTH AND SAFETY MEASURES. WE MAY LIMIT ENTRY AS NEEDED. PLEASE WEAR A MASK, MAINTAIN SOCIAL DISTANCING AND MAKE USE OF THE HAND SANITIZER THAT WILL BE AVAILABLE.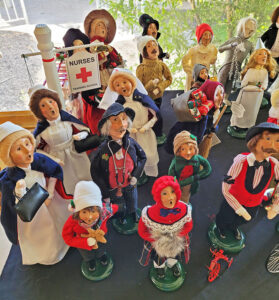 Yahoo! We are having our first summertime estate sale and this is a very cool one. It is happening this weekend in Glendale and this one promises to please with loads of fun, cool stuff from vintage pieces to the LARGEST REYN SPOONER collection of shirts we have ever seen… OVER 170 fabulous shirts in fantastic condition.
Reyn Spooner is a classic collectible Hawaiian style shirt. This is a really huge collection and many of them even seem to be in brand new condition–and they have all been dry cleaned and tended to well. This is the best selection and collection of these classic and vintage shirts that you are likely to ever see… so don't miss this opportunity. (All are men's shirts in sizes Large and X-Large)
In the collectible department we are offering up a very large collection of Byers Choice Carolers. These lovely and highly collectible figures are handmade and crafted in Pennsylvania. This stellar collection features over 110 figures covering a range of holidays, occupations and even some quaint accent pieces. Once again, this is a rare opportunity to choose from a vast selection of fine and treasured collectibles.
We are also quite excited to offer an extensive collection of the rather rare California Missions series, crafter and signed by artist Alvin Cabral. He created a series of models, called Mission Real, of all the California Missions and there are quite a number of them available. Not an opportunity that you are likely to see again soon.
And if those collectibles were not enough, we have a large collection of Annalee holiday figures. These charming figures have become a tradition since they were first made in 1934 by Annalee in New Hampshire. They remain highly collectible and this selection of holiday figures, both large and small, is a rare chance due to the wide choices to be had.
The rest of the home is simply loaded with a gamut of cool finds. We have a great gathering of WW2 aircraft posters, books and lithographs. There is a nice choice of Ethan Allen (quality and expensive) distressed style furniture as well as a superb, top-of-the-line Ethan Allen Grandfather clock in good working condition.
Oh, there is just so much. A really nice and uber cool mid-century pool table (circa 1960's) that measures 4.5 x 9 feet. You will love many of the cool household and decorative items, from the gorgeous handmade wool Persian carpet (a real knockout) that is 10×13 feet in size. Books, wall art, original paintings, Wusthof knives, stereo equipment, appliances and TWO DOUBLE DOOR Garages chock full of digging discoveries.
We even found several lovely, mid-century Catherine Holm serving dishes (Scandinavian), a Franklin Mint 18-piece Nativity set and a big set of charming Wedgewood "Quince" fine china.
We have A LOT to offer you and this all has to go in just 2-days. YIKES!
QUESTIONS? You can always reach me by cell (951) 316-0429 or email rsvandermolen@aol.com
Here are a selection of images from our Glendale Estate Sale. For more images, please visit our listing on ESTATESALES.NET: